Read about a father and son's experience on a Spanish Immersion Tour.
1. Tell me more about CPI Spanish Immersion School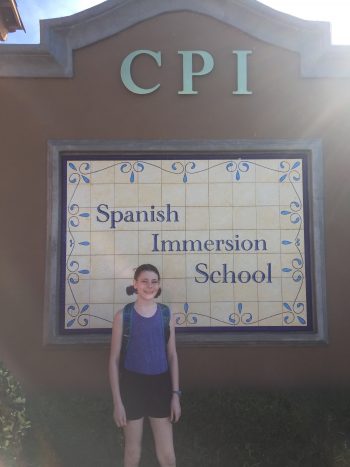 CPI (Centro Panamericano de Idiomas) is a private language institute specialized in teaching the Spanish language to non-native speakers.  Since 1991 CPI offers Spanish immersion classes complemented by stays with local families and cultural activities as well as excursions.  Currently CPI proudly provides students classes in 3 fully equipped and operational campuses in Costa Rica in addition to 2 satellite sites. Global Family works with the location in Monteverde Cloud Forest which we feel is particularly family friendly though families are welcome at all locations.
Global Family tours include 1 week (Monday-Friday) of Spanish classes at CPI- Monteverde. If you'd like to add a 2nd week at Monteverde or one of the other locations, high school and college credit is available. Receiving credit does require additional paperwork so if you'd like to go this route, please let Global Family or CPI know a few weeks in advance.
Some travelers like to sign up for CPI online courses ahead of time to prep for their time in Costa Rica. You can book this directly through CPI. Online courses are live with a Costa Rican instructor via Skype usually once a week for a few weeks and homework is assigned. This is also offered after your time in Monteverde to keep up your skills. We found the quality of the instruction both in person and online to be very high.
2. What ages are best for the Spanish Immersion tours?
Spanish classes are ideal for middle school through college students and adults. A separate program is available for younger kids that includes either Spanish classes or babysitting. For children 12 and under, an age appropriate course corresponds with the particular learning needs of young people. Class time is divided into modules with emphasis on basic communication skills, vocabulary, and the introduction of grammatical concepts, coupled with art, linguistic games, and hands on learning.
For children 4-6 years old, CPI has developed a special program covering elemental vocabulary and interesting topics appropriate for this age. Babysitting for this age group is offered in place of a course that includes crafts, walks, etc.
3. Where will we stay?
CPI offers family homestays for families of up to 6 people. Some Costa Rican families they work with have 3 bedrooms for guests. You eat breakfasts and dinners with your host family and are on your own for lunch. This is the best way to really immerse yourself in Spanish. If you'd rather be on your own, Global Family can book you a 2-3 bedroom cabin within walking distance of CPI. Meals are not included but you'll have a small kitchen and there are a few restaurants and a small supermarket within walking distance.
Global Family also books your lodges before and after your time at CPI. See Lodging Options for more info.
4. How does transportation work?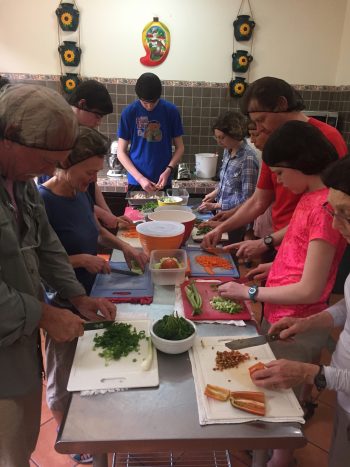 You will book your own flights. Transport between locations is included and may be group shuttles or private shuttles.
5. I want to work on my Spanish for my career and would like to bring my family along.
CPI offers Spanish courses tailored to the following careers: Medical, Business, Spanish Teacher, Social Work, Public Safety. While you spend your mornings on specialized vocabulary and conversation, the rest of your family can be taking general conversational Spanish.
6. How do optional activities work while I'm at CPI?
There is an activity bulletin board in the hallway at CPI where you can sign up for optional activities. They include transportation from CPI and include zip-lining, guided nature walks, hanging bridges canopy walk, night hikes and more. Other activities are offered at CPI such as jewelry making, movie night and cooking classes. Some of the activities at CPI are complementary for students.
If you go to some activities on your own with taxi or public bus, you can use your CPI student ID to pay the lower student rate at some locations.