General Concerns
Traveling with kids in Costa Rica
1. Where will we stay?
We will stay at small family-run lodges as much as possible in order to experience the real Costa Rica and support the local economy.  Many lodges consist of small one-room cabinas with a double bed and one or two single beds and an attached private bathroom with shower.  The cabinas are often arranged around a garden area or wading pool. A couple of 2 bedroom options are available as well. The families who own the lodges serve wonderful homemade full breakfasts with loads of fresh tropical fruit each morning in their open air dining areas (sometimes included, sometimes not). Our lodges are often in the countryside or on the quiet edge of town, where bird-watching opportunities abound.  We avoid the hotels with noisy bars or those run by American or European chains that serve the mass-market tours and take the profits out of the country where they are needed.
Larger family? We've tracked down those rare lodges with rooms that sleep 5, 6, even 7! Often they are 3 queens/ doubles or a double and 2 sets of bunk beds. back to top
2. What does it mean to have a private guide?
A bilingual, naturalist guide who also serves as a driver will pick your family up (either at the airport or at a lodge near the airport depending upon your flight arrival time) and drive you throughout the tour. He will drive you between locations as well as to activities & meals at each location. He can recommend restaurants and activites and reserve any activies that require advance reservations. Some of our guides are expert birders who can take you on birding walks at no additional fee on the grounds of your lodges. He will also be able to point out wildlife and sights of interest that you pass while driving. He will generally transport your family in his own vehicle. If you have a large group, he can arrange a tourist bus with a separate driver for your group. The guide usually stays at the same lodges you stay at, but will sometimes be at a nearby lodge depending on room availability. Guides do not stay with at some locations: beach (all lodging types), Tortuguero (all lodging types), Osa (Plus and Upgrade lodging). back to top
3. Who is coming?
Global Family Adventures custom itinerary tours are small (just your family and any friends you decide to invite along) so that we can be flexible and attentive to the needs of our youngest travelers.  Our tours are specially designed for families with children ages 1-7 but can be easily adapted for older children by including more adventurous/active activities.  Families are welcome to invite aunts, uncles, grandparents and good friends to join them.  A bilingual guide/driver will be on every tour unless you prefer to travel without a guide.  A wonderful caregiver is available to travel with your family upon request for an additional fee.  Babies can be great travelers and if they like to nap in a backpack carrier you can take them along on almost every activity.  back to top
3. How much childcare can you provide?
Your children will be primarily your responsibility during the trip. It is possible to reserve a babysitter to travel with you during your tour for an additional fee. The babysitter is "on duty" from after breakfast through dinner time. The sitter will travel with you and stay at the same or a nearby lodge. Evening care is also possible on a case-by-case basis. Sitters are flexible and happy to exchage a free morning or afternoon for an evening duty. back to top
4. Are all meals included in the price of the trip?
Some breakfasts are included in the price of your trip. Occasionally you may be booked at a lodge that does not offer an included breakfast. In general, nearly all the more budget lodges include breakfast and only some of the moderate/high end ones do. This will be made clear in your itinerary. You are responsible for the cost of lunches and dinners. Ask your guide to take you to fancier tourist places or little local sodas (Costa Rica's answer to a Mom and Pop diner), depending on your preference. Snacks and drinks are not included. back to top
5. What will we eat?
We will be visiting Costa Rican restaurants that serve tasty traditional foods such as chicken, fresh fish, beans and rice, yucca (manioc) and wonderful tropical fruits.  Much Costa Rican food is flavored with cilantro, red sweet pepper, garlic and yummy Salsa Lizano.  Unlike in Mexico, food is very mildly spiced, but Tabasco sauce is standard on restaurant tables.  Many restaurants also offer gringo-friendly options that have become popular with the locals like hamburgers and cheese sandwiches.  Safe bottled water, pasteurized milk and juice boxes are available everywhere.  Vegetarian options are also available. Many towns now have an Italian (pizza) and a Chinese restaurant. Ask you guide to take you to one if you'd like some more variety in your diet. back to top
6. How will we travel?
Your guide will drive your family in his private vehicle which has been certified by the Costa Rican Tourism Institute. It will say "TURISMO" on it if approved. Depending upon the size of your group, it may be a 4-door 4WD car or a 9 person minibus. If you have a group of 8 or more, you'll have a larger shuttle bus with a separate driver. All vehicles are air conditioned with seat belts. The vehicle will stay with your group (except during beach days on trips longer than 7 days) so car seats can be strapped in once and stay there.  If you are going to the beach and are on a tour longer than 7 days, you will take a pre-reserved taxi back to the airport hotel, usually a minivan. Hotel shuttle buses may be used for airport transfers.  back to top
7. What should I bring?
Travel light!  You'll have the opportunity to do laundry about half-way through the trip.  Lightweight, quick drying clothes, a rain poncho, camera and binoculars are a must.  You'll receive a very detailed list of recommended items before the trip. back to top
8. What about car seats?
Costa Rica has very strict car seat laws. Children are required to be in a car seat or booster seat to age 12 or 145 cm (4 ft. 9 in). Most families bring their own but a few have rented them via Service Car Rental, a company that rents more than just cars through the San Jose airport. If you want to rent seats, contact the company well before your trip and they'll deliver them to you as you arrive at the airport. Some Global Family guides offer booster seats- ask Jenny if your guide has them. Keep in mind that the vans you'll be traveling in have lap belts only (no shoulder belt) in the back seats where kids will be so check that your seat works with lap belt only.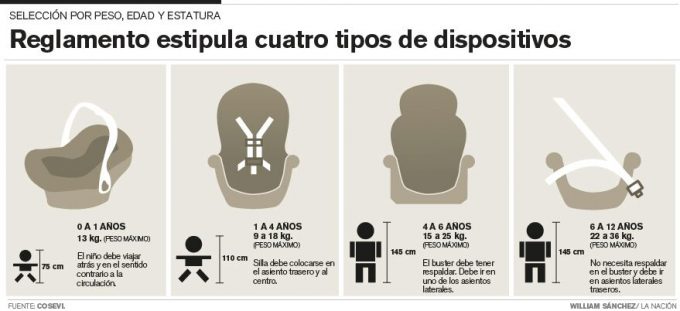 0-1 years
up to 13 kg (28 lbs)
Up to 75 cm tall
1-4 years
9-18 kg (19-39 lbs)
up to 110 cm tall
4-6 years
15-25 kg (33-55 lbs)
max 145 cm tall, (4'9")
6-12 years
22-36 kg (48-79 lbs)
max 145 cm tall, (4'9")
This last style works with
shoulder belt only
(usually not available in CR)
9. Should I bring snacks and baby food?
Due to agricultural restrictions, you won't be able to bring any fresh food from home, but bringing a few sealed jars of baby food, packages of crackers, Cheerios  or canned food is OK.  You can visit a supermarket to stock up on fun, local treats (granola bars, nuts, raisins, plantain chips, fruit, water, juice boxes, etc.).  Baby food is also available, though the selection is very limited and the flavors will be different- mango and papaya are first foods here!  Most Costa Ricans make their own baby food and mashing small portions of adult food at meals may work fine for you. back to top
10. What does ecotourism mean?
The International Ecotourism Society defines ecotourism as "responsible travel to natural areas that conserves the environment and improves the well-being of local people." This means that those who implement and participate in ecotourism activities should follow the following principles:
Minimize impact
Build environmental and cultural awareness and respect
Provide positive experiences for both visitors and hosts
Provide direct financial benefits for conservation
Provide financial benefits and empowerment for local people
Raise sensitivity to host countries' political, environmental, and social climate
Support international human rights and labor agreements
Costa Rica has a lodge rating system for sustainable tourism. Lodges are rated 0-5 leaves. More leaves are granted for things like recycling, composting, providing filtered water to refill water bottles so tourists buy fewer plastic bottles all the way up to having an on-site bio-digester which creates electricity from waste, solar water heaters, native landscaping, training local people as nature guides and supporting local artists. Jenny has visited nearly all the lodges she books and all have some sort of eco-program. A few have even attained the hard to achieve 4-5 leaf status including Selva Verde Rainforest Lodge, La Quinta Country Inn and Arenal Springs Resort!
11. What can I do to help Costa Rica?
Read about what an inspired second grader did to help here.
Learn about an organization that is working to support and expand the Monteverde Cloud Forest here.
Some families on our tours have collected school supplies in their children's classrooms and visited a school in Costa Rica to donate them. Ask Jenny how to arrange this if you are interested.
back to top
12. Stability, health and the environment
Costa Rica is a democracy and is known as a very stable country with health care on par with industrialized nations.  It abolished its army in the 1940s and invests heavily in education and its national park system.  In 2003, it outlawed open pit-mining and oil exploration.  Nature-based tourism is the country's number one industry.  With a well-educated populace, software companies such as Intel have come in and are now responsible for 25% of the country's GNP.  Unlike most other Central American countries, Costa Rica has a growing middle class.  However, the rural areas are still poor which brings the annual per capita income down to $6650.  Because of Costa Rica's national health care and social security systems, life expectancy is the same as in countries where income is four times that much, and actually a bit longer than in the United States. back to top
13. Health Precautions
Visit your doctor, pediatrician or travel clinic before the trip to make sure your family is up to date on their vaccinations.  As of February 2016, Hepatitis A and Typhoid are generally the only vaccines for Costa Rica that are advised in addition to the ones you should already have.  Hepatitis A should be given one month before the trip to everyone 2 years and over.  Those under 2 can get Hepatitis A protection from gamma-globulin.
Check with the Center for Disease Control for up to date recommendations at www.cdc.gov/travel/camerica.htm or call 877-394-9747.  Many hospitals and medical centers have nice travel clinics where you can schedule one time for appointments for the whole family and they will update immunizations, give you current CDC info for the country you plan to visit and show a short video on travel health safety.
Malaria is not currently active in Costa Rica.  Dengue fever is another mosquito-carried illness that is present in Costa Rica. Zika is a another virus carried by mosquitoes. Although there is little Zika in Costa Rica, it is present in nearby countries. Pregnant women are advised not to travel to areas with Zika. Our travel clinic recommends insect repellant with 30% or less DEET for adults and older children, 7-10% DEET for younger children and babies.  Clothing can be treated with permethrin (the substance applied to mosquito nets) to reduce the use of DEET.  You can treat your own clothing or buy clothing pre-treated (available at REI and Gander Mountain).  Our travel clinic recommended this as a safe option for young kids to reduce the amount of DEET needed.  Treat or buy only one outfit (loose-fitting long sleeve shirt and pants) per person and wear during rainforest hikes and when passing though buggy areas. Preventative malaria medication may also be recommended. Check with your travel clinic or doctor/pediatrician. back to top
Traveling with Kids
General travel with kids
Ticos love children.  Unlike in some countries, children are welcome everywhere.  Noisy kids will get smiles in restaurants from the locals and wait-staff, not dirty looks.  Whenever possible, we will patronize family-friendly places that will enjoy our sometimes rambunctious group.
14. Does my child need a passport?
Every child will need his or her own passport.  Both parents must be present when applying for the passport.  If you have sole custody, bring that documentation. You'll need passport photos, a certified copy of the child's birth certificate and photo ID for both parents.  Passports for children are valid for 5 years.  Passports take at least 6 weeks to process so start the application early to avoid paying the expedited service fee!  Passports can often be processed at post offices and driver's license centers. back to top
15. What if both parents won't be traveling with their child?
Costa Rica requires entry/exit authorization letters if you are traveling with a child 18 or under and one or both parents will not be in the country.  You must get a notarized letter from the absent parent(s) giving you permission to enter Costa Rica and take the child out of Costa Rica again.  This rule was put in place to prevent international kidnapping.  Global Family Adventures can provide you with a form upon request that has been accepted by the Costa Rican authorities in the past. If you have sole custody, bring documentation of that instead. back to top
16. What about diapers?
Bring a week's supply.  We'll visit a supermarket to restock.  Local and sometimes American brands of disposable diapers in sizes 1-5 are readily available.  If you prefer a particular brand or need larger sizes or pull-ups, please bring your own for the entire trip.  Swim diapers are generally not available in Costa Rica. back to top
17. Are cribs and high chairs available?
High chairs are often, but not always available.  Some families choose to bring a small booster chair with folding tray that straps to a chair.  Cribs are available at all eco-Plus and Upgrade lodges and most Tico (but not all) lodges.  If your child requires them, let us know and we can reserve them at lodges when possible or suggest light-weight travel options for you to bring. back to top
18. Toileting and diapering
As you'll have private transport, just ask for stops anytime for toileting, diapering, snacks and running around. Because diaper changing stations are not available in developing countries, bring a compact folding or roll-up changing surface and wipes. back to top
19. How much childcare can you provide?
Your children will be primarily your responsibility during the trip. It is possible to reserve a babysitter to travel with you during your tour for an additional fee. The babysitter is "on duty" from after breakfast through dinner time. The sitter will travel with you and stay at the same or a nearby lodge. Evening care is also possible on a case-by-case basis. Sitters are flexible and happy to exchage a free morning or afternoon for an evening duty. back to top