Cloud Forest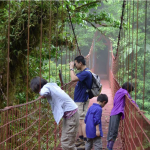 Monteverde is a cloud forest community settled by Quakers that boasts a large forest preserve with some of the most diverse plant and animal life anywhere in the world. Most of the lodges are in the adjacent town of Santa Elena which also has its own cloud forest preserve that is run by the local high school. Cloud forest locations are at a high elevation so they are literally "in the clouds" which makes for a cool and misty environment. It can rain/mist anytime but it is generally drier in the dry season of December to March. Plant life in the forest is very dense and it's fairly dark under the canopy, which can make it harder to spot wildlife. However, the forest itself is beautiful here and birdwatching can be excellent especially in the transition zones between pasture/secondary forest.
The road up the mountain is unpaved and full of blind switchbacks, not for the faint of heart. Activities here include cloud forest walks, frog zoo which includes a small zipline that is great for young kids , crazy high octane zipline (including a 1km long line), cultural tour with sugar cane, coffee, cacao, etc.
View all itineraries: Cloud Forest
Arenal Volcano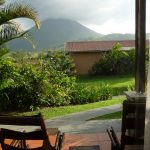 Arenal Volcano is a classic cone shaped volcano located near the small town of La Fortuna. Although it's no longer spewing lava, it's still geothermally active and there are many hot springs in the area. You can take a walk over old lava flows and look for reptiles basking in the sun on the black rock. During its lava flowing years, the area of La Fortuna became a mecca of tourist activities and is still a popular spot. Activities in the area include Danaus Wildlife Refuge where you can often see the red-eyed tree frog, sloths, butterflies and birds. There's a long zipline tour similar to the one in Monteverde and a nice hanging bridges walk through the forest. Adults and teens can windsurf on Arenal Lake, said to be one of the best spots in the world. Many families have enjoyed a cultural tour that includes making candy from sugar cane and visiting a local farm and school.
View all itineraries: Arenal Volcano
Rincon de la Vieja Volcano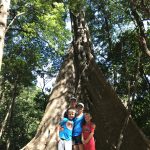 This less well known volcano national park is only 40 min from the Liberia airport and makes a great substitute for Arenal Volcano area if you want to save a few hours of drive time and visit a less popular but still intriguing area.
This 34,800 acre (14,084 ha) national park is home to the the Rincon de la Vieja volcano (6217 ft, 1895 m), comprising of nine contiguous craters that dot the volcanic national park. The Von Seebach crater is currently active, continually venting steam and the occasional volcanic hiccup.
Enjoy hiking trails through tropical forests, including sections of montane and dwarf cloud forest, soak in a sulfuric hot spring and cool off in a nearby stream. Bubbling pools of mud can be found an additional 3 km beyond the hot springs.
Families who choose this location stay at nearby Hacienda Guacipelin, a Costa Rican owned former ranch with large property that holds waterfalls, hot springs, trails and a horse corral. Activities include horseback riding, tubing, canyon ziplining, waterfall rappelling, and (for those 14 and up) single track mountain bike trails.
View all itineraries: Rincon de la Vieja Volcano
Rainforest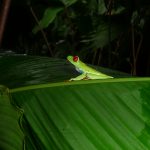 Puerto Viejo de Sarapiqui, commonly called just "Sarapiqui" is our lowland tropical rainforest location located at the confluence of the Sarapiqui and Puerto Viejo rivers.  I like it because it's not touristy and is a great place to see wildlife and birds. The town is small and a typical Costa Rican town with little tourism influence so it's a great cultural experience just to talk a short walk around town. There's often a pick up game of soccer (football for the non-American reader) going on in the field next to the little shopping area. This location has the most rustic lodges.
Popular activities here on the river include a slow wildlife boat ride to look for crocodiles, caiman, sloths, birds, monkeys and iguanas or a fast whitewater rafting trip. Tirimbina Wildlife Refuge and La Selva Biological Research Station offer trails through the rainforest. There's even a small zipline tour that's great for young kids. A school visit can be arranged with advance notification. It can be hot and humid here. There's no dry season here but late January to early May is less wet.
View all itineraries: Rainforest
Tortuguero Turtles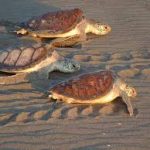 This site is recommended for families with kids age 8 and up as getting there and away can involve a 3 hour boat ride. Tortuguero National Park is a great place in Costa Rica to encounter wildlife as it consists of a large system of waterways irrigating the majority of the Northern Caribbean area of the country. Because of its remote location and difficult access this pristine rainforest remains virtually untouched and it is home to many animals like sloths, monkeys, crocodiles, toucans, trogons, water birds, colorful frogs and butterflies.
This National Park is also the prime nesting site for the green and leatherback sea turtles from June to October, during which months an optional turtle nesting night tour will be available for an additional cost. Due to its remote location, your lodge rate includes 3 meals/day and some guided tours. Kayaking  and fishing are also popular here.
View all itineraries: Tortuguero Turtles
Osa Peninsula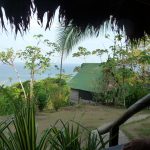 On a good day on Osa, you can see as much wildlife as you'll see in a whole week in the more well-traveled parts of Costa Rica. Osa is remote with few roads and chock full of amazing wildlife. Most visitors arrive by boat, first through the Rio Sierpe and then along the coast until you reach your lodge near Drake Bay where flocks of scarlet macaws fly by. Due to its remote location and distance from medical care, this location is recommended for families with kids 8 and up who are in good health and can swim. It's hot and humid here year round but the wildlife experience makes it all worthwhile!
Lodges here include all meals and many include activities as well. You can boat to the amazing primary rainforest in Corcovado National Park where you may see tapirs and all 3 of Costa Rica's monkey species. Snorkeling and scuba diving are popular at nearby Isla de Cano National Park island. Sport fishing, dolphin and whale watching (late June to early November) in the ocean and kayaking on the river Agujitas are also world class here.
View all itineraries: Osa Peninsula
Baru Wildlife Refuge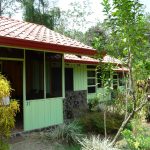 Hacienda Baru National Wildlife Refuge & lodge is located 3km from Dominical. This wildlife refuge includes 330 hectares of private & public land protected from hunting since the 1970s and protects pristine beaches, mangrove estuaries, wetlands, secondary and primary forest. This is a great place to see wildlife and enjoy time on a quiet undeveloped beach just a short walk from your cabin. Activities include birdwatching, forest walks, tree climbing, canopy tour, orchid and butterfly gardens. Experienced surfer parents will want to check out the waves at nearby Dominical. The road from Quepos to Hacienda Baru was paved in just the last couple of years so it's not on the tour bus route making it a quiet and special place to stop. December to February are the driest months.
View all itineraries: Baru Wildlife Refuge
Caribbean Coast Beach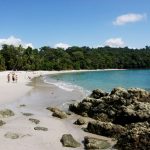 Itineraries that include the Rainforest location and a beach will go to Playa Negra, a black sand swimmable beach located on the Caribbean Coast. This area is generally quiet except during Easter week when it fills up. From your lodge, it's a 10-15 minute walk to downtown Cahuita and the Cahuita National Park (an undeveloped lovely white sand beach). Here you can experience the Caribbean flavor of Costa Rica in one of the less developed and less touristy areas. The National Park includes miles of undeveloped shoreline where you can often spot monkeys in the palm trees. Take a walk along the wide shady trail through the jungle along the beach and look for wildlife, then step out towards the ocean and cool off in the water. Many families spend all their time at the beach, but if you'd like more, there's snorkeling in the small reef off the national park beach, surfing lessons, scuba diving, sportfishing, and kayaking at nearby beautiful Gandoca Manzanilla National Park (mangrove estuary) where you'll often have the place to yourself. You can visit the BriBri Indigenous Reservation, a sloth rehab center and more. Driest months are January to April.
This beach area is best for families who feel comfortable off the beaten path, away from many other travelers, interacting with the locals. There have been some safety incidents here (not with Global Family travelers but in the news) so do your research and use common sense- leave valuables in lodge safe, don't walk after dark- take a taxi, etc.
View all itineraries: Caribbean Coast Beach
Manuel Antonio Beach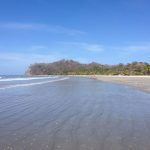 Manuel Antonio National Park is one of the most visited in the country and the area can be packed with tourists during the dry season. The park itself is a gorgeous long strip of undeveloped beach with several coves for swimming and a shady trail through the palm trees. The farther you walk, the fewer people you'll have to share the beach with. This is a great place to see troops of monkeys and there's a variety of restaurants and shops. Most of the lodges are located up on top of the cliff overlooking the ocean. Kayaking the nearby mangrove area will get you away from the crowds and there are surfing lessons and dolphin and whale watching tours in the area. December to February are the driest months.
View all itineraries: Manuel Antonio Beach
Nicoya Peninsula Beach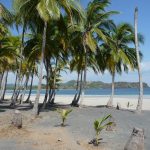 Itineraries that fly into Liberia airport will go to Playa Samara, a crescent shaped beach between two rocky headlands on the Nicoya Peninsula on the northern Pacific Coast. The beach is protected from the big ocean waves by a reef and the sandy floor stays shallow with small waves for a long way out, making it great for young families to play safely in the sea. Surfing lessons for beginners here are popular even for kids as young as 4. The town of Samara is quiet and easily walkable with a lot of ex-pat residents, variety of restaurants (some right on the beach) and shops. Other activities here and at Playa Carillo (4km down the coast) include snorkeling, scuba diving, sportfishing, surf casting, kayaking to Isla Chora, and dolphin watching boat tours. Nicoya Peninsula is in a drier part of Costa Rica and there is generally no rain from November to April.