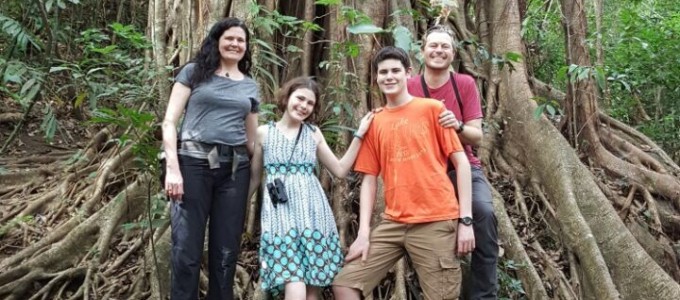 Day 1: ARRIVAL IN COSTA RICA – BIENVENIDOS!
Saturday: Arrive at Daniel Oduber Quiros International Airport (LIR) in Liberia.  Hotel shuttle to nearby hotel.
Days 2-6: MONTEVERDE CLOUD FOREST
Sunday: Shuttle picks you up in the morning for the transfer to Monteverde (3 hrs). Monteverde is a cloud forest community settled by Quakers that boasts a large forest preserve with some of the most diverse plant and animal life anywhere in the world. Sunday afternoon free to explore.
You have 5 nights here either in a lodge within walking distance of CPI or with a Costa Rican host family. Some host families have 2-3 bedrooms to accommodate a family.
Monday- Thursday: 4 hr. small group (2-5 students) Spanish classes (8 am- noon) at CPI with break half way through and included snack. You will have a little homework each day but there's still time for fun.
Afternoons free to explore. Some optional activities include: A naturalist guided hike at the Monteverde Cloud Forest Preserve, neighboring Santa Elena Cloud Forest Preserve or new Curi Cancha Wildlife Refuge is a must. The frog zoo is a hit with younger kids and everyone enjoys the hummingbirds zooming around the Hummingbird Gallery. Families with older kids may enjoy the adventurous horseback ride to San Luis waterfalls. Stop in at CASEM, a women's cooperative selling local art and souvenirs. Check out the cloud forest canopy from a bird's-eye view from the hanging bridges or zipline. Enjoy a tour of the cultural side of Costa Rica at El Trapiche with fun hands-on bits for the kids.
Day 7: LAST CLASS & TRANSFER TO RINCON DE LA VIEJA VOLCANO
Friday: Last Spanish class this morning. Have lunch and then shuttle picks you up for the transfer to lodge near Volcan Rincon de la Vieja National Park (3 hrs).
Day 8: RINCON DE LA VIEJA VOLCANO
Saturday: Full day to enjoy Rincon de la Vieja Volcano area. Some optional activities include nature walk at Rincon de la Vieja National Park which is a unique dry tropical forest with bubbling volcanic mud pots and a good chance to see monkeys, hot springs, waterfalls, river tubing, zip-lining, mountain biking, horseback riding.
Day 9: TRANSFER OUT – ADIOS and GRACIAS!
Transfer (40 minutes) to Airport in Liberia by shuttle.
(alternatives: Samara Beach instead of Volcano, add extra days and see beach and Volcano)