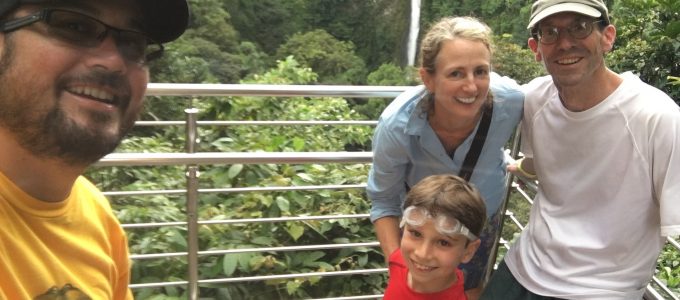 Dad of 8 yr old

9 day Rainforest, Volcano, Cloud Forest with eco-Tico lodging
We had the most wonderful trip to Costa Rica, in large part because of our guide, Jose Pablo. Almost immediately, he became a member of our family when he met us at the airport and started engaging all of us, especially our 8 year old. We simply can't imagine having done Costa Rica without him. We left the airport and headed off to Sarapiqui, learning all about Costa Rican culture and history on the drive out. Discovering that we really liked birds, Jose 'surprised' us with a lunch stop at a soda replete with bird feeders (along with great views of a waterfall), where we had our first of many casados and started our love affair with this traditional Costa Rican meal. Arriving at our first B&B, Andrea Cristina, our host Alex was so gracious (and a great story teller). He also engaged our son and took all of us around the grounds that first evening (with flashlights), looking for tree frogs and other wildlife (including their 'resident' sloth!). it was a great first place to stay and, again, we were treated like family. Despite being early in the rainy season, our weather was unbelievable. While it would pour down rain virtually every night (which was great for sleeping), the skies would clear in the morning and allow us to go on all the adventures we chose. We started our first full day with the boat ride on the Sarapiqui river (pretty much had the boat to ourselves), and then went to Tirimbina in the afternoon with Jose as our naturalist guide; he made it a lot of fun and also very educational for all of us. The following day we visited La Selva Biological Research Station for their 2 hour guided tour (incredibly informative) and then explored on our own for a while, before heading off to the Arenal area after another delicious lunch at a local soda (Jose knew all the best places to eat, and the food was uniformly great; we really miss the food!). We settled in at La Catarata Ecolodge (which seemed pretty fancy to us for eco-tico accommodations) and our boy immediately hit the swimming pool from which he could see the volcano. As an early riser, I was treated to a rainbow over Arenal Volcano at 5am the next morning…just magical. Jose would be up early as well and so we did a little birding in the neighborhood before the day began in full. We spent a good part of our day exploring trails at El Silencio Wildlife Reserve (which, again, we pretty much had to ourselves) and could have spent the entire day just soaking in the volcano from the beautiful lookout (where we were visited by a Slaty tailed trogon!). We hiked up one of the volcano trails to get into the lava fields a bit, before heading back. One of the great things about Jose is that we never felt rushed during our adventures; whenever we wanted to linger and take in the views, or chase down a bird, or watch the monkeys frolicking in the trees, Jose was right there with us and just as excited about it all as we were; the flexibility of the itinerary made all the difference. At the end of that long hiking day, we hit the swimming hole at the bottom of La Catarata de la Fortuna (now that's a swimming hole!!), which was in a setting more to our liking than the more 'touristified' volcanic hot spring options which we drove past.
We opted to drive around Lake Arenal with Jose (because we liked hanging out with him) rather than take the boat trip on our way to Monteverde, and we stopped along the way to see some birds and just take in the beautiful Costa Rican landscapes….what an amazing country! We got situated at the Monteverde Villa Lodge (where, again, the owners were so nice) and then treated ourselves to some darn good pizza at Bon Appetit that night. We spent the entire next day exploring the Monteverde Cloud Forest Preserve and finished up at the hummingbird gardens (mind boggling!) and then hit another local soda for yet more fine Costa Rican food. The following day, we explored Selvatura park, the highlight of which was finding a Spectacled Owl and it's (big) baby hanging out in the trees just off the trail…yet another magical moment in Costa Rica. We had lunch there, visited a local art gallery, and then did a short hike at the neighboring Santa Elena Preserve; another long day of hiking and exploring but simply beautiful. We got off particularly early the next morning to start our trip back to Alajuela because Jose had suggested another boat ride, this time along the Tarcoles River; so we got to see a bit of the Pacific coast on the drive down there and then had the most amazing river safari trip on the Tarcoles, complete with huge crocodiles, howler monkeys, and a great collection of stunning shorebirds. It was the best final adventure we could have asked for. Before dropping us off at the hotel airport, Jose gave us a little tour of his hometown where we got to see his own former elementary school and his home (and even got to meet his mom!). It was hard saying goodbye to Jose as he really was now one of the family.
It was such an amazing trip; we honestly couldn't have wished for anything more as we all just fell in love with Costa Rica and with Pura Vida; the only bad part was leaving, and now we can't wait to go back.
Thanks so much Jenny, for making this available to us, and especially for connecting us up with Jose; he's a gem.