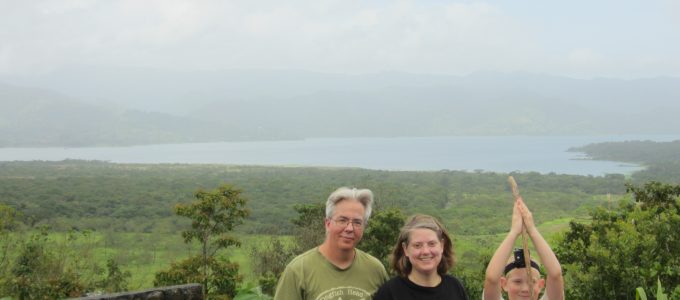 mom of 9 yr old

9 day Volcano, Rainforest, Beach itineary with Combo lodging
We did the volcano, rainforest, beach itinerary.
Our guide was
Jose Pablo Ugalde
, he was awesome! His father is also a guide so he's been involved as a guide, naturalist, and driver since he was very young.
Day 1 – Jose picked us up at SJO and we headed to Arenal. Stopped at a soda on the way. We stayed at the Arenal Oasis lodge. Small cabins, but clean and homey. We had a fridge and microwave. The breakfasts were very good, and they put fruit out to get birds to come. We saw maybe 12-13 species. We also did their night frog hike. It was very dark, and their flashlights aren't great, and it hadn't rained that day, so the guide warned us that it might be harder to see many frogs. But we did see a fair amount, including a red eyed tree frog, their eggs, and an eyelash pit viper.
Also in Arenal we did the Mistico Hanging Bridges, the Los Laureles hot springs, the volunteering afternoon at Proyecto Asis, and a visit to the Arenal Natura Ecological Park herpetarium, and La Fortuna Waterfall. And we did the 1968 lava flow hike. All of them were great. Decided not to zip line after the 10 yo was freaking out about the longer hanging bridges.
Next we went to Sarapiqui and stayed at the Posada Andrea Cristina. We stayed in the main building which has 4 suites, each with a covered patio and a hammock. There is a sloth there who has lived there about 15 years. Breakfast was excellent, Alex makes his own bread which was very good. Here we did the chocolate tour at Tirimbina and whitewater rafting with Aventuras del Sarapiqui. Great outfit, we got very good training, and we had the most senior guide in our raft (we think) since we had the youngest kids. We had one very rainy afternoon we spent just lounging around and taking turns in the hammock.
Next we were supposed to go to Cahuita, but I had developed an issue that I needed to see a surgeon in SJ for. I had found a couple of options online and our guide called to make an appt for me. I was seen that day, even before my appt time, and after a consult, the Dr did the minor procedure I needed right then. We were in and out in less than an hour! The Dr cost was very reasonable, however the drugs were $70 for 3 nsaid pain pills and 5 abx pills. Not sure if they would have been cheaper at a farmacia outside of CIMA. It was amusing to listen to a French lady having a fit because her pills didn't come in a box.
We stayed at the Courtyard by Marriott in Escazu for 2 nights. Lovely hotel, right by a bunch of restaurants we could walk to. Nice to have some comforts like a/c and a tub back, but I wouldn't have wanted to do a whole trip in a generic US hotel chain like that. Staff was great, they all learned our names and kept our son plied with treats. I booked the rooms with the breakfast, turned out to be a good deal.
Our last full day Jose took us to Jaco via the Tarcoles River and the Carara NP. Seeing the crocs was great. We hesitated about going into the NP b/c it was already 11am, very hot, and not sure how much we would see, but we went anyway. So glad!! We saw a howler, 2 toucans, tons of leaf cutter ants, a few lizards, and a black iguana.
We had lunch in
Playa Hermosa
to watch the big waves, then headed to Jaco. The sand was a beautiful dark brown/black, and very fine. I had my one and only contact emergency after getting some sand in my eye. The boys rented a boogie board and had an awesome time. I sat on the beach melting but got to see a pair of scarlet macaws fly by.
Our last night we spent at the Hotel Buena Vista in Alajuela. It was very nice, open air hallways, and a decent dinner and breakfast. The boys swam in their pool at dusk and got dive bombed by a few bats! We walked their coffee trail which was the first time we'd gotten up close to coffee plants. They had all kinds of fruit trees and an avocado tree. Shuttle back to SJO was great.
Most of our meals were good, but nothing really stands out, but we knew we weren't going for the food. We did enjoy the Salsa Lizano, and brought a bottle home. Tried the guaro, but one shot was enough. Bought snacks at mercados, hubby really enjoys that, and went to one of the chain bakeries twice – started with an M?
Overall we loved CR, very glad we had a guide/driver, we saw many things I'm sure we wouldn't have without him. Jenny, who runs Global Family Adventures, was an awesome resource and we're very glad we booked through her! It was very simple and she was very helpful with all of our questions and concerns.