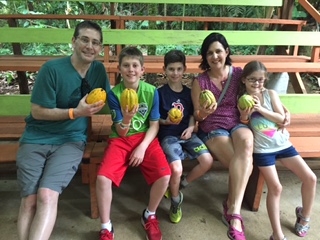 Mom of 11, 9 and 7 year olds

11 day Volcano, Rainforest, Beach itinerary with eco-Upgrade lodges
It was a really big adventure and we made some great memories. Jose was a terrific guide. He was knowledgable about the area but more importantly he was easy to be around and good at providing us the right amount of information, support, suggestions, etc. We have never traveled with a guide before and some of my kids are quite shy and Jose was able to engage them but not overwhelm them. I was also very impressed with his driving skills and overall safety awareness. We also appreciated his ability to suggest activities and scheduling to fit our needs in the moment – from when we needed some down time to when we were ready for an adventure. We very much enjoyed our time with him. In fact while we were there we adopted a puppy (at home) and have decided to name her Josie in honor of our big adventure with Jose.
We loved that Arenal area and Los Lagos was great. The view, the pools, the restaurant, the grounds were all lovely and we really enjoyed ourselves. They were not able to put an extra mattress in our room (traveling with a family of 5 can be a little bit of a challenge) but it all worked out fine. We loved the waterfall hike, the hanging bridges, exploring La Fortuna. In the end we wished that we had an extra day here.
Sarapiqui was also enjoyable and Selva Verde was great. We loved our "casona" and the sleeping arrangements worked out perfectly. We very much enjoyed our activities there – zip lining, chocolate tour and rafting. We also played at the pool and went for nature walks. It was great. We ate at the lodge 2 nights and Jose took us out to Bambu one night. We felt like we had the right mix of touristy activities and a little bit of seeing life outside the lodge.
We did not enjoy Cahuita and our experience there has slightly clouded our ability to look back positively on the whole trip. The main issue is that we felt unsafe outside of the B&B. We were the only US tourists we saw and also the only family we saw. After we arrived and got a sense of the town we googled it and found warnings about safety issues in the area. After 2 short trips outside of El Encanto we decided that we did not feel safe leaving the B&B and we holed up there. The grounds of El Encanto were lovely and we enjoyed the pools and our accommodations. But without a restaurant on site we felt "trapped" there we were very ready to leave on Saturday. One last note is that Alex, the manager, was very nice but also very busy and always rushing in and out.
I mention this because I can't imagine that we are the only US family who would feel this way. I read other testimonials on your site of families that enjoyed Cahuita but we really did not. Even if Cahuita had felt more safe to us it was a big stretch for us to be in a rather remote area without a guide. We were very aware of the fact that we had 3 children in a developing country, none of us spoke Spanish and we were very far from home.
The trip itself was a big adventure and the first 2/3rd of it was a "just-right" fit for our family.