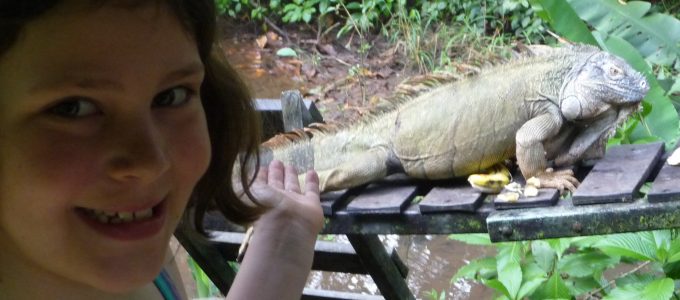 All tours include a Private Naturalist Guide for your family
Day 1: ARRIVAL IN COSTA RICA – BIENVENIDOS!
Arrive at Juan Santamaria International Airport in San Jose.  Hotel shuttle to a quiet hotel near the airport.
Days 2-3: ARENAL VOLCANO and HOT SPRINGS
Your private guide picks you up in the morning for the transfer to your first location. The tour begins! Transfer to La Fortuna (3 hrs), at the foot of a spectacular classic cone-shaped volcano.  Settle in at cabinas outside of town for 2 nights.
Choose your optional activities with your guide. Check out old lava flows (and maybe current smoke) of Volcan Arenal.  Those interested in adventure and scenery can opt for the steep hike to a spectacular waterfall (La Catarata de la Fortuna) with refreshing swimming holes. An afternoon family visit to Hot Springs (Baldi, Tabacon, or Los Laureles) with volcanically heated springs is fun too- there are two pools that are cool enough for even babies. There's a great hanging bridges walk or tram ride through the rainforest canopy here for everyone and a zipline for those over 8. You have a good chance to see a sloth and poison dart frogs at EcoCentro Danaus or check out traditional cultural food, sugar cane candy and visit a school with Cultour at La Casona.
Days 4-5: SARAPIQUI and TIRIMBINA RAINFOREST RESERVE
Transfer with your bilingual naturalist guide to Puerto Viejo de Sarapiqui, nestled in the lowland tropical rainforest (2 hrs).  You have 2 nights here.
Choose your optional activities with your guide. You can cross the longest suspension bridge in Costa Rica to explore the rainforest at nearby Tirimbina Rainforest Reserve.  Majestic tall trees, birds and colorful tiny frogs abound! Early-risers can opt for a guided birding walk. Visit the rainforest at La Selva, one of the top tropical ecology research stations in the world, or take a thrilling whitewater rafting trip on the Rio Sarapiqui (Class 1-5 rapids). The morning family boat ride on a slow, shady boat to look for monkeys, sloths, toucans, caiman and crocodiles is always a hit with kids who might get worn out on a hike! Kids 6 and up can try out the zipline at Hacienda La Linda.
Days 6-8: CARRIBEAN BEACH, PLAYA NEGRA
Transfer to the lovely Playa Negra beach (3 hrs), a quiet swimmable black sand beach just a 15 minute walk from the town of Cahuita and the Cahuita National Park, a beautiful stretch of undeveloped white sand beach with a strip of jungle home to monkeys, sloths and birds. Your guide will drop you off here and you can relax on the beach and play in the sand as a family. The guided portion of your tour ends with drop off here. Stay at a small family-owned lodge for 3 nights with a pool, just steps from the beach! No big noisy resorts with bars and discos for us! We've found the quiet gems perfect for families with young children.
Day 9: HEAD BACK TO ALAJUELA
Time for one more dip in the ocean in the morning. Then head back to your hotel in Alajuela near the airport (about 4 hours) via pre-reserved private transport.
Day 10: TRANSFER OUT – ADIOS and GRACIAS!
Transfer (15 minutes) to Airport by hotel shuttle.
Please note: Global Family Adventures strives to follow the schedule, but changes may be made due to weather conditions and interesting new opportunities.