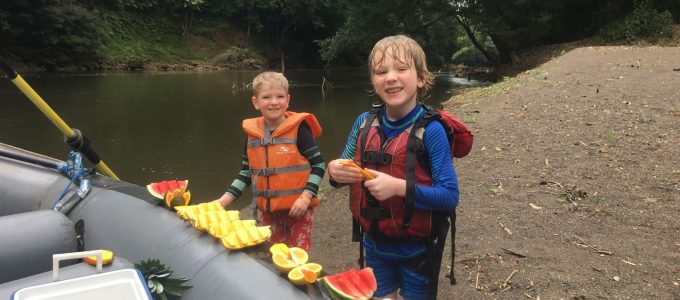 Christine, Mom of 5 and 7 yr olds

10 day Volcano, Rainforest, Beach tour with eco-Plus lodging
Our trip was amazing. We have so many pictures and stories, I don't know where to start. We really enjoyed Luis' company. A couple days after he left us, my youngest (Zach -5) said "I miss Luis" – he never said that about anyone before.
Our personal highlights were:
Me: swimming in the river while feeding the fruit-eating "piranhas" during our raft tour in the rain forest near Sarapiqui; having monkeys throw figs at me in the Cahuita national park. Also, I brought a blacklight flashlight with me on a night walk with Luis and Xavier in Sarapiqui and for maybe 30-45 minutes, didn't see anything that glowed (I was just curious – it was a Christmas present). Then lo and behold, I found two tiny 1 inch long scorpions on tree trunks! That was soooo cool. You would NEVER see them otherwise.
Xavier (7): seeing a sloth up close – we were walking to the pizza restaurant in Cahuita and we saw a sloth about to cross the road in front of a parked van. Then all of a sudden, the van drove off and I thought for sure the sloth got run over (I screamed). The van sped away, and we approached the sloth. It was alive but his face looked like a mess and his back looked indented, kind of like the size of a tire track, and he was not moving. Well, we'd never seen one so close so we weren't sure what they normally look like. A local man biked by and we asked him if the sloth looked ok to him – he said yes. After a few moments of staring at the sloth who was not moving, we decided to carry on towards the restaurant. After we left, I turned around one last time, and saw the sloth slowly getting up on his 4 legs, and then crossed the road! He was totally fine. We only took one picture, because I didn't feel like taking many pictures of a dying sloth…..I should have taken more, obviously! Xavier won't stop asking to see the picture during the trip and to this day. I should just print one. Xavier (and mine)'s other highlight was swimming in the gentle warm waves at the beach @ 1.4 mile (or km?) mark in Cahuita National Park. We wished we could have walked further but there was so much to see so we took too long.
Zach (5): the sloth….and a racoon who wanted our food. All the swimming (pools, cold and warm, beach, etc)
David and everyone: all the animals – Spiders, snakes, monkeys, agoutis, fish, bugs, all the gorgeous birds, caimans, even bats on a log during the rafting….also the chocolate tour. Thermal pools, of course.