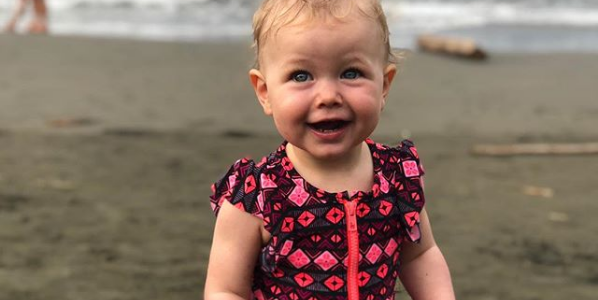 Kara & Andy, parents of 15 month old, traveled with grandparents also

11 day Volcano, Rainforest, Beach with eco-Plus lodges
We had a great time, and I can't thank you enough for everything. Luis was a wonderful guide and we all learned so much. I have A LOT of thoughts on our experience and, with your permission, will dump them all here for you to take or leave as you will! I've been working in marketing a very long time so I can't seem to prevent myself from weighing in when feedback is requested!
Overall experience:
Having a guide like Luis was so helpful – the minute we exited the airport we had a guy in our faces trying to "organize" things for us and knowing that you'd already organized the shuttle for us helped us know who we should or shouldn't trust. It was a little overwhelming at first, but we got it sorted out
You do a great job of informing parents that car seats are required by law, and we used it with Luis the whole time we were with him…but no one else would put it in and just had us hold Ramona on our lap. While I'm sure you have to inform people of the law, it might be nice to warn them that this is likely going to happen. While no first world parent ever wants their child to be unsafe, it was a (I think) a good perspective-giving experience to have to let go of our American control while in Costa Rica – I went from being that obsessive parent who would only buy a car seat if it was the safest in the world to just shrugging and piling her in on top of us to get to the Jaguar Reserve like every other family was doing around us. If there is a way to say that to parents before they leave – set that expectation, it might help temper their anxiety in the moment.
While in Play Negra, we met a mother and daughter who had been there for a week. While they had done many of the same things we did, zip-lining, chocolate tours, etc., what was really striking was the context we could share with them around the culture, the history and all of the interesting tidbits of everyday Costa Rican life that Luis shared with us on the drives or while eating together. The mother looked up and bookmarked your website then and there.
Luis did a good job of figuring what "type" of people we were pretty quickly. After probably the third time of asking him where he thought we should eat, he just started choosing for us and it was fantastic. When he could tell we wanted to do something but were worried about trying to fit too much in, he would help us figure out ways to get everyone's bucket lists accomplished. He was tireless in his drive us or pick us up from anywhere. And while I realize that's what we paid for…he was just so cool and patient with everything that it made the trip all that much easier.
We chose to do zip-lining and the tram + the thermal pools (Los Laureles I think it was called) in Arenal, the boat trip and the chocolate tour in Sarapiqui (the chocolate tour was amazing), and the National Park and the Jaguar Reserve in Play Negra. I think we chose all the right things for having a 15 month old with us and again Luis was super helpful in helping choose how to spend our time.
During the things where Luis accompanied us, he was able to point out so much that we would've missed on our own! Tiny frogs and bats that looked like tree bark, it was all pretty fascinating and it made every hike more interesting.
The biggest "struggle" came in Playa Negra where we had a grandfather who couldn't walk much more than he already did but also wanted to go out and see stuff, so Luis and his wheels were missed. We stuffed into a taxi for the Jaguar Reserve but she would only wait for us so long so we had to leave the tour early and she went flying through Puerto Viejo which looked really fun, but we couldn't stop there since we were on the meter. So that was a bummer (but also a reason to go back!!)
Overall – the programs are fantastic and exactly what you need for traveling with little ones, especially when it's your first time visiting.
Cheers,
Kara, Andy & Ramona
Kara, you forgot to mention we also went to La Paz Waterfall Gardens and on the Suspension Bridges hike. Luis took the amazing pictures of the frog egg sac with my phone for me through his telescope and the ant parade on the last hike.
Incredible memories and we docmented all of it in a journal which I'm going to type up tomorrow.
-Denise