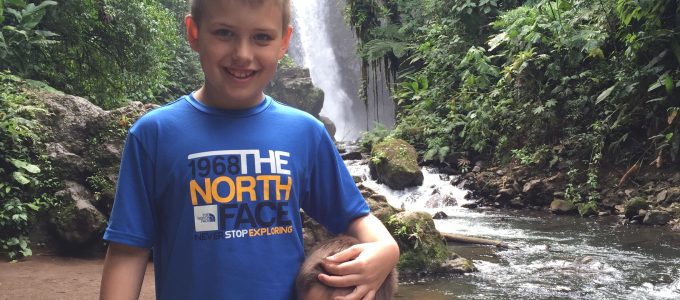 Mom of 6 and 8 yr olds

13 day Custom Itinerary Volcano, Rainforest, Beach, Peace Lodge with Combo lodges
Thanks Jenny! We did end up taking nature air from Limon to SJO and taxi to peace lodge-$60 for taxi (less than peace lodge transport). It was well worth the extra money and getting up early. The drive out to Cahuita was very long!
The Peace Lodge room was incredible, the kids really enjoyed the animals. It was too zoo like for me. I felt like a captive there with high prices for everything. I compare it to Disney! I just wanted typical casados for dinner instead of fancy dinners. But at this point we were low on cash so couldn't take a taxi. Although I'm glad we experienced it, we would not return to la Paz. We prefer a more authentic/wild Costa Rica:) of course you probably already know this;)
All of YOUR suggested accommodations were amazing and wonderful. We loved Arenal area as usual and really enjoyed Sarapiqui! The kids especially loved playing with Meghan's son Aeden and will stay pen pals:) we loved the food, vibe everything about Chilamate Rainfroest Eco-Retreat. It was very comfortable! The room on the river at Selve Verde was cool also:)
Luis was so great recommending lunch and dinner at local family owned restaurants. We had an amazing time zip lining in La Fortuna. It was cool to zip over waterfall then walk down to it later that day! Expensive to zip, used a lot of our cash-but well worth it! We loved rafting in Sarapiqui as well.
At the beach: renting bikes was key for us! We walked to Tree of Life.. Longer than we thought, but kids did well. They are used to walks:) enjoyed Tree of Life a lot! Bike options were rough at Bridgett's, but we managed. It was $36 for just over 24 hours…it was great to bike to town and Cahuita national park. My husband and kids liked the vibe of Reggae Bar. I thought the food was mediocre. We enjoyed Sobre las Olas for a late lunch of fish and chips. Excellent. We are breakfast at crepe place on way to natl park. It was good and convenient. Brigittes breakfast was also Good! We ate dinner at Coco Bar-it was mediocre also. Taxi to sloth sanctuary was $15 each way. Highly recommend-bring bug spray for boat ride:)
National park was a highlight here as well. When not crowded great place to run! We unfortunately didn't get very far on trail..kids wanted to play in the water on beach maybe I km in.
Thank you again!