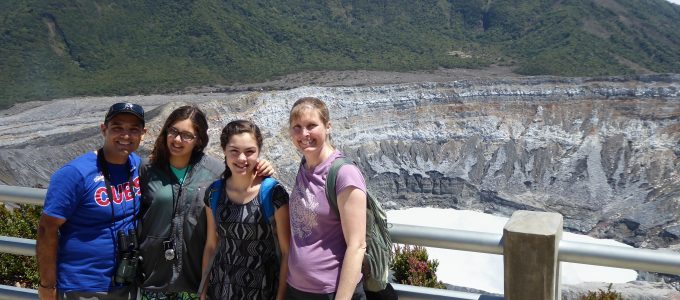 Becca, Mom of 11 and 13 yr olds

9 day Arenal Volcano, Rainforest, Caribbean Coast Beach with eco-Plus lodges
Some thoughts on our 8 days in Costa Rica…
Luis was amazing. He was a careful driver and managed well with our motion-sickness prone family. His van had wi-fi (which saved our 13-year old from social isolation), nice A/C, and plenty of room to relax and enjoy the view. He was an encyclopedia of knowledge about everything to do with Costa Rica–the wildlife, food, culture, history–and he conveyed the information in a way that was easy to understand and remember. He had a knack for being around when we needed him while also respecting our family time. We had some issues with one of our kids getting sick during the trip (which led to some adjustment of plans and unexpected stops while driving), and Luis was very flexible and patient with the disruptions.
Buena Vista Hotel: We enjoyed the nice rooms, breakfast and amazing views of the city. They even packed us a breakfast to take to with us on our super-early departure the last day!
Arenal Observatory: We loved our room overlooking the volcano. The wonderful, manicured gardens, bird feeders, and well-marked paths made wildlife viewing for the kids fun and easy. The front desk had a huge list of activities that seemed easy to schedule (although Luis did everything for us), but the 20-minute drive in and out on the dirt road was a little rough. Unfortunately, it was cloudy and rainy during most of our time here AND our daughter got very sick, so we did not get to enjoy it as much as we should have.
Arenal Activities:
-Mystico Hanging Bridges – There was a lot more walking than we expected and we saw almost no animals. The bridges and jungle views were amazing, though.
-La Fortuna Waterfall – Seemed expensive for a short walk to a waterfall. It poured on us the entire time, so we weren't able to spend very long there (which probably contributed to it seeming expensive).
-Baldi Hot Springs – This place was perfect for our family! The endless pools of varying temperatures and crazy waterslides made for a fun, relaxing afternoon. The entire complex is so big that I can't imagine it ever feeling crowded despite the large numbers of people.
-SkyTrek Zip-Lining – We LOVED it, but only two of us got to go due to the sick kid. The long rides with views of Lake Arenal in the background were unforgettable.
-There were so many more activities that we didn't get to–we definitely wished we had more time at this place!
Selva Verde Lodge – We very much appreciated our large apartment with A/C (which really helped our kids manage the stifling heat). I think it was one of only 2 or 3 rooms with A/C, though. The free breakfast was delicious and we enjoyed overlooking the bird feeders while we ate. We had both dinners at the wood-fired pizza/pasta restaurant, which was fantastic and a nice break from Costa Rican food for our relatively picky kids. The nature trails here were not as easy for the kids as Arenal, though.
Selva Verde Activities:
-Wildlife boat tour – Amazing! We were the only family on the boat and saw tons of wildlife. The driver would stop the boat for as long as we wanted for photos/gawking. Two hours was perfect for family, and it was an ideal first activity for our sick daughter after she recovered.
-Tirimbina Rainforest Reserve and Chocolate tour – Luis reserved a chocolate tour for us and lead us around the preserve before and after the tour. We were again the only family on the Chocolate Tour, and loved it. They took us through the entire process of how indigenous people make chocolate, with lots of taste-testing along the way.
Playa Negra/Cahuita – Our 2-bedroom guesthouse was the most charming of all the places we stayed. The lovely pool surrounded by trees and gardens had quite a bit of wildlife and the beach across the street was perfect for body surfing and wave-hopping. At first we had a hard time adjusting to the heat (coming from an air-conditioned room in Sarapiqui), but learned to dip in the pool and ocean as often as possible to cool down. Although the downtown area and national park are quite close to the hotel, I do feel it would have been a difficult walk in the stifling heat, especially for the kids. We ate at the restaurants nearer to the hotel and Pierre drove us to the reserve, however, so it didn't matter for us.
Playa Negra Activities:
-We didn't do any paid activities here (although we wanted to snorkel…but the ocean was too murky while we were there). With another day we probably would have done the Tree of Life Wildlife Rescue Center (for our animal-loving kids). Pierre took us on a 5-hour walk at the national park that was a highlight of the trip (2 kinds of monkeys, sloths, toucans, snakes, birds, etc…). We were also lucky enough to watch a sloth move from a palm tree near the hotel pool to a neighboring tree at sunset one evening!
Final thoughts: If we had it to do over again, with an 8-day trip we would have only gone to two places instead of three (mostly likey Arenal and Playa Negra). We liked Sarapiqui, but most of the things we did and saw there could have been done at the other locations. We simply spent too much time in the car, especially for the kids.
We were AMAZED by how the Costa Rican people embrace "Pura Vida". We saw no road rage (despite many frustrating and harrowing driving conditions), no litter, and very little rudeness there. It was great for our kids to see people living so differently from the U.S. and yet still enjoying life as much or more than we do. The best part about Costa Rica for our family, however, was the wildlife. We will never forget seeing iguanas everywhere, troops of monkeys swinging above us, sloths hiding in half of the trees, frogs hopping across the paths after it rained, and colorful birds all around.