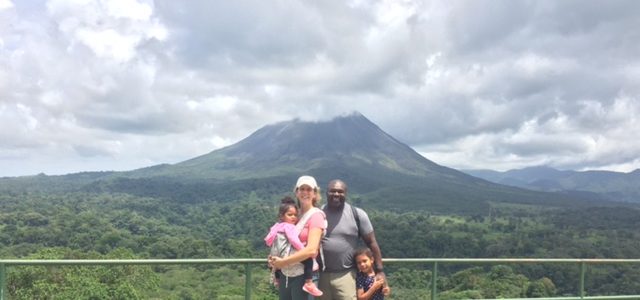 Stacey, mom of 5 and 2 yr. olds

8 day Arenal Volcano, Rainforest, Caribbean beach
We had an amazing time on our trip!
Dauren was absolutely fantastic with sharing his knowledge of all wildlife, plants, and history of Costa Rica as well as taking care of all logistics for our activities. He was super flexible and wonderful with our two girls as well. Extremely patient and caring.
We loved Silencio del Campo. The hot springs were perfect on site and great temps for our kids and we loved the farm too! We also loved El Encanto. The owner Alex was so hospitable and helpful, it was also so family friendly and we loved the two room suite.
La Quinta was ok based on our wildlife sightings, a family of howler monkeys came through our first night. Even though you shared the place was rustic I felt our room had not been cleaned in awhile and the food was overpriced. There was also a ton of tour groups there- mainly middle or high school students. It is the only place I would not go back or recommend to others.
We did a float trip with our girls which was great and the chocolate tour in Tirimba in the area.
Thank you again we had a wonderful trip that totally accommodated our family and made traveling stress free and easy!