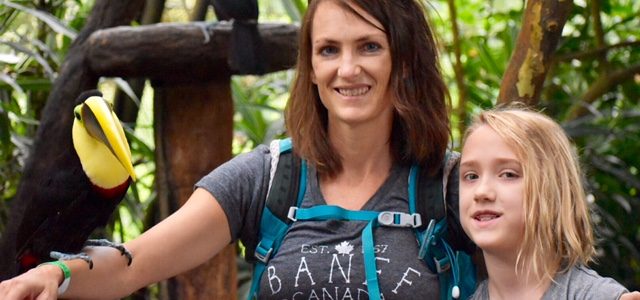 Cinnamon traveled with daugher, 9 yrs.

10 day Rainforest, Volcano, Cloud Forest itinerary with Plus & Upgrade lodges
I wanted to thank you for arranging an absolutely wonderful trip for Matilda and me. We have traveled a lot, but I can tell you that this was truly not only the best vacation we have ever had, but also one of the best life experiences, especially for Matilda, who really blossomed over the course of the 10 days. I really cannot thank you enough for arranging for Gil to be our guide. He was remarkable in every single way – knowledgeable, kind, patient, dedicated, and just all around a lovely human being. Matilda felt so safe and comfortable with him and he was so patient with her and with us when we were tired or didn't quite engage fully with an activity. He took the time to get to know us and then helped us plan our days accordingly. And, anytime Matilda was tired or scared, he would find a way to make her laugh – like when we were waiting to go zip-lining for the first time and she was scared and crying so he took a picture of us and photo shopped Bruiser the Dog into the photo beside her because he knew that she loved the movie Legally Blonde! Similarly, when he realized that we wanted to really experience Costa Rica and to see nature and eat local food etc., he arranged to take us to local restaurants, to go on amazing tours (e.g., organic pineapple, rainforest chocolate etc.). Or, when he realized that I was super keen to find a sloth in the wild, everywhere we went, he would help me look for sloths (we found one on the Trapiche tour, of all places!).
Also, Matilda is a vegetarian and I am a vegan and everywhere we went to eat, he made sure that we had great options and, once he discovered that I love spicy food, he would also ask the waiters to bring extra spice. And, of course, he is extremely knowledgeable about different ecosystems and he is an expert wildlife spotter, as well as a terrific photographer. It is hard to describe how lovely and smart and knowledgeable a human being he is. Matilda was so sad when we had to say goodbye- she wept a lot. All in all, it was simply a wonderful trip and your organization and knowledge and Gil's all-around wonderfulness was at the heart of it all! So, more to follow about specific activities, but thank you!!
The one constructive comment about Selva Verda is that the King room we stayed in was so very, very loud bc if truck noise. We loved (loved!) the hotel – saw dozens of poking frogs, birds, monkeys etc- but we would stay in a main complex room next time even if it was smaller and had no air conditioner. Our room at Arenal Observatory was so gorgeous that I would go back there just for the room. We also really, really loved our room in the Hotel Belmar – the balcony was amazing. Our Alajuela hotel (blanking!) was lovely; the breakfast food was very yummy but the dinner food was quite expensive. We loved Tirimbina, Santuario Ecologico (like our own private preserve), and Curi-Cancha (amazing wildlife with an entire Troop of white faced capuchins at the very end). We also loved the 100% Adventure hanging bridges – again, we had it all to ourselves and it was so beautiful. Both zip lining experiences (Los Canones in Arenal and 100 Adventure in Santa Elena) were great, but 100 Adventure was our favorite bc of the long zips and, for me, the Superman style option! Also, we really loved the El Trapiche tour – including the sloth sighting. At the pineapple, chocolate, and Trapiche tours, the guides were fantastic. We would do them all again.
Day By Day Activities
1. Hotel Buena Vista
2. La Paz Waterfall Garden, Lunch: Soda San Luis (amazing), Selva Verde walk, Dinner: Restaurante Topicort La Carreta
3. Organic Pineapple Tour, Soda Marielos, Tirimbina(Kaipo tree; oscillated ant bird), pool, La Casona at the Hotel Ara Ambigua (scientific name for
macaw; frog pond)
4. Travel to Arenal, La Catarata de Fortuna, Lunch at waterfall, Rainforest Chocolate Tour, dinner at Arenal Observatory
5. Walk around grounds, Los Canones Zip Lining, Finca Educativa Don Juan (organic farm), Los Lagos Hot Springs, Dinner at Hotel (amazing sunset)
6. Boat across Lake Fortuna, Orchid Cafe, Hummingbird Gallery at Monteverde, Casem co-op, Treehouse Restaurant
7. Santurario Ecologic, Stella's, El Trapiche tour (sugar cane, coffee, chocolate, arapache)(sloth!), Dinner at Amy's, chili guaro (spicy Cacique drink)
8. Curi-Cancha (Aguti, Coahti, white faced capuchin, baby wren), Monteverde Heladeria (cheese factory), 100% Adventure Zipline, Hanging Bridges (rainstorm; M climbed up hollow tree), Morphos dinner
9. Travel back to Alajuela; Cafe Macadamia (orchids); look out point cafe; Atenas; Sarchi – Guinness record Oxford cart and Fabrica de Carreras Eloy Alfaro