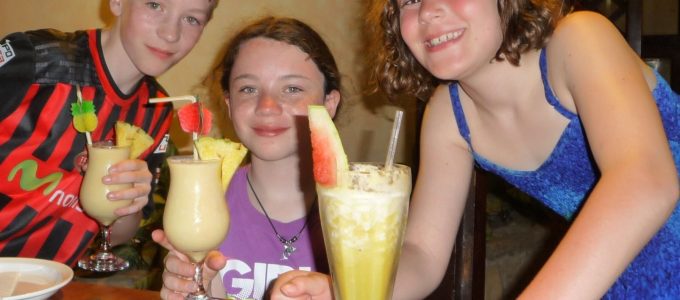 All tours include a Private Naturalist Guide for your family
Day 1: ARRIVAL IN COSTA RICA – BIENVENIDOS!
Arrive at Juan Santamaria International Airport in San Jose.  Hotel shuttle to a nearby quiet hotel.
Days 2-3: SARAPIQUI and TIRIMBINA RAINFOREST RESERVE
Your private guide picks you up in the morning for the transfer to your first location. The tour begins! You arrive with your bilingual naturalist guide in Puerto Viejo de Sarapiqui (2 hrs), nestled in the lowland tropical rainforest.  You have the option to stop at Volcan Poas or La Paz Waterfall Gardens on the way. Stay here 2 nights.
Choose your optional activities with your guide. You can cross the longest suspension bridge in Costa Rica to explore the rainforest at nearby Tirimbina Rainforest Reserve.  Majestic tall trees, birds and colorful tiny frogs abound! Early-risers can opt for a guided birding walk. Visit the rainforest at La Selva, one of the top tropical ecology research stations in the world, or take a thrilling whitewater rafting trip on the Rio Sarapiqui (Class 1-5 rapids). The morning family boat ride on a slow, shady boat to look for monkeys, sloths, toucans, caiman and crocodiles is always a hit with kids who might get worn out on a hike! Kids 6 and up can try out the zipline at Hacienda La Linda.
Days 4-5: ARENAL VOLCANO and HOT SPRINGS
Afternoon transfer to La Fortuna (2 hours), at the foot of a spectacular classic cone-shaped volcano.  Settle in at cabinas outside of town and enjoy dinner.  Stay here 2 nights.
Choose your optional activities with your guide. Check out old lava flows (and maybe current smoke) of Volcan Arenal.  Those interested in adventure and scenery can opt for the steep hike to a spectacular waterfall (La Catarata de la Fortuna) with refreshing swimming holes. An afternoon family visit to Hot Springs (Baldi, Tabacon, or Los Laureles) with 10 volcanically heated springs is fun too- there are two pools that are cool enough for even babies. There's a great hanging bridges walk or tram ride through the rainforest canopy here for everyone and a zipline for those over 8. You have a good chance to see a sloth and poison dart frogs at EcoCentro Danaus or check out traditional cultural food, sugar cane candy and visit a school with Cultour at La Casona.
Days 6-8: MONTEVERDE CLOUD FOREST
Leave Arenal Volcano for Monteverde. Take the scenic drive around Lake Arenal with your guide (4 hrs) or sign up for the Jeep/Boat/Jeep transport ($25pp, 3 hrs) and take a shortcut across the lake. Monteverde is a cloud forest community settled by Quakers that boasts a large forest preserve with some of the most diverse plant and animal life anywhere in the world. You have 3 nights here.
Choose your optional activities with your guide. A naturalist guided hike at the Monteverde Cloud Forest Preserve, neighboring Santa Elena Cloud Forest Preserve or new Curi Cancha Wildlife Refuge is a must. The frog zoo is a hit with younger kids and everyone enjoys the hummingbirds zooming around the Hummingbird Gallery. Families with older kids may enjoy the adventurous horseback ride to San Luis waterfalls. Stop in at CASEM, a women's cooperative selling local art and souvenirs.  Check out the cloud forest canopy from a bird's-eye view from the hanging bridges or zipline.
Day 9: HEAD BACK TO ALAJUELA
Time for one more activity at the cloud forest in the morning. Then head back to your hotel in Alajuela near the airport (about 3 hours) with your guide. The guided portion of your tour ends here.
Day 10: TRANSFER OUT – ADIOS and GRACIAS!
Transfer (15 minutes) to Airport by hotel shuttle.
Please note: Global Family Adventures strives to follow the schedule, but changes may be made due to weather conditions and interesting new opportunities.