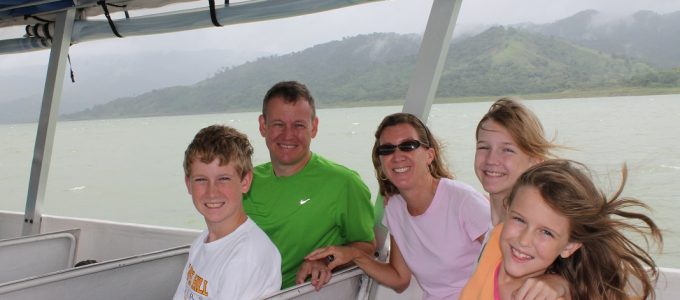 Hans & Katie, parents of 9, 13 and 14 yr olds

9 day Custom Itinerary Cloud Forest-Rainforest-Tortuguero National Park, August 2013
"The trip was spectacular — everyone had a great time.  
Leo [Herrera Lopez, guide] was a tremendous guide — I can't say enough good things about him.  The kids were really, really bummed that he couldn't come with us to Tortuguero.  Our visit there was fun, but we kept saying "If Leo was here …".
The highlight of the trip for me was Sarapiqui.  Leo seemed to know people everywhere.  On the way to Sarapiqui [Arenal area] he took us to a hot springs resort and it was just perfect.  We had massages, drinks, and soaked in the progressively hotter springs all afternoon.  The kids even fed a coati.  Selva Verde was a great place to stay, and we wished we had several more days to explore.  On our first morning there, Leo arranged a river boat tour with a friend of his, and it was just the seven of us (our family, Leo, and the guide).  We saw an amazing array of animals — snakes, monkey, green macaws, cayman.  We couldn't have asked for anything more.
Monte Verde was fun (particularly the night tour), and Tortuguero was neat because it was so different (and a monkey almost landed in our boat), but I think we liked Sarapiqui the best.
Thanks again for setting up such a great trip for us on such late notice!"