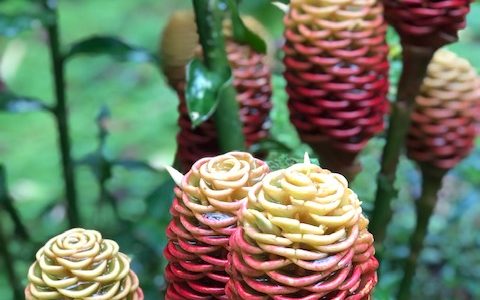 Mom of 7, 5, 3 year olds

15 day Arenal Volcano, Cloud Forest, Esterios Este Beach with ecoUpgrade lodging
Thanks, Jenny! We had a great trip and a really good experience with both Alice [babysitter] and Luis. Everything went smoothly – apart from our kids! – and we appreciate how well thought out all the details were.
And just a quick summary of a few of our trip highlights, as promised: hiking through the volcanic landscape around Arenal; touring the chocolate producer near La Fortuna (what an unexpectedly great and non-commercial-feeling tour!); relishing the dynamic views of the Nicoya Peninsula and local bird life from the Sunrise Room at Hotel Belmar; visiting the sloth sanctuary in Monteverde and watching one very active sloth eating, moving around, and socializing with a second sloth; hiking through the cloud forest and noticing all of the details in the sea of green (tiny snails, brightly colored flowers, dew-bedecked spiderwebs, vibrant butterflies, plants upon plants upon plants); watching a troop of spider monkeys pass through the canopy just overhead (including a mother spider monkey who partially leapt across a gap between two trees and then suspended her body between them to make a bridge for her baby); visiting the butterfly gardens in Monteverde and learning about various fascinating Costa Rican insects; wading and swimming with our kiddos at both beach and pool in Esterillos Este; encountering a small crocodile walking toward the ocean during an early morning beach walk.
Lost Iguana in Arenal is really nice. [This is a lodge Global Family had not worked with before that Hollis requested.] It's a beautiful, lush, secluded property with a hilly, dramatic layout and lovely gardens. We enjoyed the spaciousness and privacy of our two-bedroom casita with wonderful volcano views. The pools – one hot, one cold – are great for little kids, and the bar and restaurant areas are very nicely designed and atmospheric. The restaurant food is so-so not amazing, but it was perfectly fine for our needs, and our girls eagerly anticipated the big breakfast buffet each morning. The trails at the property were closed during our stay, unfortunately, due to the tropical storm that moved through just before we arrived, but we did plenty of hiking in the area regardless. I'd highly recommend the resort to anyone who doesn't mind being a bit farther outside of town and doesn't need to have hot springs on site.
I have a couple thoughts to pass along that might help your future travelers. On the packing front, I found that I wished I had brought more long pants for both myself and the girls. I think we hit a pretty wet and rainy spell, but even so we found that long pants were our go-to for hiking and general bug protection. If I could do it over, I would pack an extra pair for each person. I would also have valued a second pair of lightweight, casual closed shoes to sub out for my (water resistant but not fully waterproof) hiking shoes, which sometimes got pretty wet and took a while to dry out. Again, this is probably most relevant for families traveling during the rainy season. I did end up bringing rain boots for my girls and was glad to have them even though they're pretty bulky.
On the car seat front, we ended up bringing our normal car seat for our youngest and getting Cosco Finale seats for both of the bigger girls. The latter seats are really light for travel but accommodate larger kids in a five-point harness restraint. All the seats install with just a lap belt and require a tether that we tied very securely to the headrest supports (not the recommended installation, but it seemed solid). My guess is that the kiddos were safer than they would have been in just lap belts. At the very least, it was the best we could come up with, and our solution might help future families.
Finally, it would be super helpful to add guidance about seashell collection for families visiting a beach. We didn't realize that you couldn't take any shells home, nor did we know how harmful it is to the environment. Maybe we're just behind the times on this front! The San Jose airport has abundant signage at the departure counters about seashell collection and we ended up voluntarily handing in our shells to airport security once we'd read the signs, but I would much rather have known about the policy beforehand so that we could have left our shells at the beach where they belong.
Thanks again for orchestrating a fun and memorable trip for us!