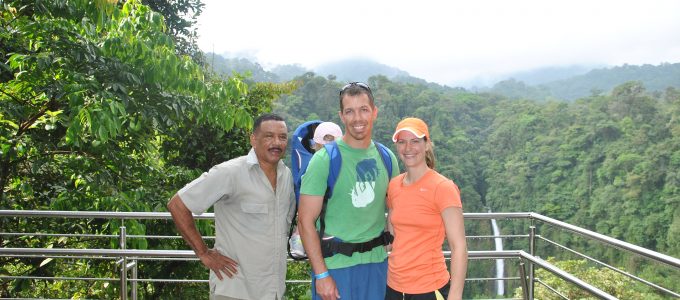 Mom of 18 month old

9 day Rainforest, Volcano, Cloud Forest Itinerary with Combo lodging
First and foremost, thank you so much for all your help coordinating this
trip. This was an extraordinary experience for our family and far exceeded
our expectations. We did indeed have an uneventful trip home and all your
details you provided were extremely relevant and helpful.
Highlights from our trip:
It can't go without mention how wonderful Walter was. This trip was
extraordinary because of him. He made us feel extremely welcomed, allowed me
to work on my poor Spanish skills while not making me feel insecure; by the
end of the trip he felt more a part of our family than just a guide. He was
extremely knowledgable of the customs, culture, locations and excursions. He
went above and beyond what I would expect of a normal guide and made our
little one feel special.
We thoroughly enjoyed La Paz waterfalls – what a great way to start off our
vacation! Emma thoroughly enjoyed the upclose encounters with all the
animals and the spectacle waterfalls at the end.
The Trimbina Rainforest was absolutely magnificent and Walter helped by
explaining the different floras / faunas and helped identify different
species
present and included in the rainforest.
The Danaus Wildlife Refuge was pretty neat, we were able to see 2 sloths here
very close which made our experience even better. The place was under a bit
of construction but was nice and Emma was able to spread her wings and do
some
walking since there weren't a whole lot of people.
La Catarata De La Fortuna waterfall was everything and more to be desired. We
enjoyed the hike both up and down even though it was very steep and we were
in
tow with baby on our back. We were able to get our feet wet and splash around
with Emma in the children's portion of the waterfall.
Los laurels Hot Springs – they were very nice and well maintained. Walter was
able to provide information regarding the volcano and the specifications of
it
and the last time it erupted.
Curi-Cancha Wildlife Refuge – this was a really neat hike, off the beaten
path
and well maintained. We were able to spot a Bell Bird here and chased around
a Quetzal that unfortunately played us like some fools – but regardless it
was
nice.
Monte Verde Cloud Forest- This was exceptional and the hummingbird garden was
a highlight of our trip. Being able to see hummingbirds zoom around your
head and drink nectar from your hands was an experience! The food was way
over priced at the restaurant on ground so I would advise to eat in the local
town or bring a snack / lunch with you.
All of our hotels were more than accommodating. We thoroughly enjoyed Arco
Iris Lodge, and was extremely well kept, personable and was within great
walking distance from the local town. All the local Sodas and restarauntes
that you recommended were extremely helpful and the food was amazing!
The only recommendation we would have is mentioning the road conditions into
Monte Verde. This was very taxing on us as well as Walter. It wouldn't have
changed our itinerary nor what we wanted to do, but a good idea / concept of
the road condition would have been good to keep in mind.