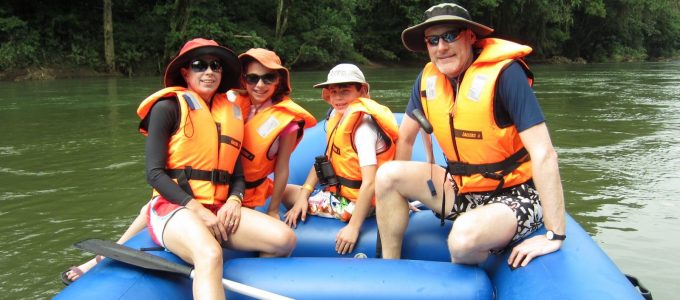 John, dad of 9 and 11 yr olds

9 day Rainforest, Volcano, Cloud Forest Tour, December 2012-January 2013
"We had a completely wonderful trip!! Kevin is not only a phenomenal guide, but he is also a great guy.
He was terrific with the kids at all times, courteous, energetic, and knowledgable. It is obvious that he has a genuine love for his country and his work. When he dropped us at the hotel at the end of the tour, we felt like we were saying goodbye to family. My son, who is not a crier, actually cried after Kevin left.
We enjoyed all the areas a lot. My wife and I especially enjoyed the river float in sarapiqui. We saw an enormous amount of wildlife, but the kids got a bit restless, as it did take over 3 hours. The hanging bridges at arenal were also really great. We really enjoyed just driving around the country and taking in the scenery with Kevin. For that reason, we opted not to do the jeep-boat-jeep because we thought we would see more from the van.
Accommodations were generally good, getting better from beginning to end. The rooms at selva verde are a bit spartan, but you definitely feel part of the forest. I thought arco iris was really neat, our cabin was great. Eating breakfast there each day we were entertained by capuchin monkeys. There were really no bad experiences.
I think you did a great job organizing everything. Some info in your pre-trip packet needs some updating. For instance, I used my MasterCard credit card all over CR with no problems, and never saw a place that took visa but not MC. Also, I took no travelers checks, but they didn't seem to be especially welcome anymore, and Kevin said this as well. One good tip for those who read at night is to bring a book light, because lighting in some rooms is not too great.