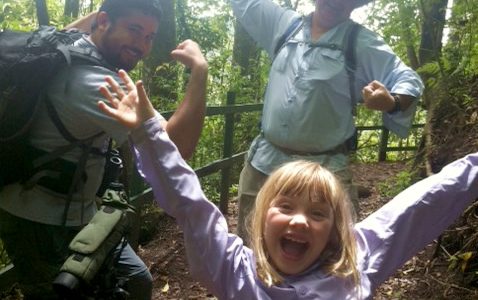 Juliane, mom of 6 yr old pictured with dad and guide at Monteverde Cloud Forest

10 day Volcano-Cloud Forest Custom Itinerary with eco-Plus lodging, July 2014
We had a fantastic trip! All the material you sent us before leaving was very useful! We were very well-prepared. There were no glitches in transport or hotels. Everything was smooth and easy.
Jose Pablo was one great guide! I cannot say enough about him. He was fantastic. Besides being a very knowledgeable naturalist, he was perfectly helpful for things we needed. He was a very safe and considerate driver (road sickness). He was super-fun, we all had a great time and our seven-year old bonded with him instantly!! He took us to the authentic, interesting places we wanted and avoided too touristy or badly run. He also took pains to include our kid in all of our conversations and activities and made sure she understood.
The selection of hotels was excellent. The Buena Vista was the perfect landing pad after an all-night flight. Great service, quiet rooms and good food made this small hotel perfect for us.
We loved the accommodations, food and especially the pools at Silencio del Campo. It would have been nice to have breakfast included at the Arco Iris or at least the option, but that is a minor complaint compared to how overall fantastic our trip was!
Thank you so much for the thoughtful and inspired suggestions!! We have been recommending your company to our friends. We have returned home with many precious memories and left a little of our hearts in that beautiful place.