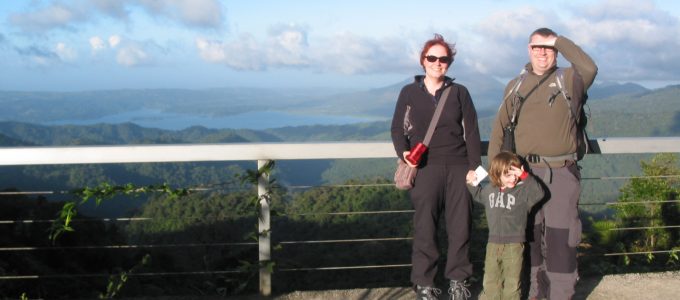 Rachel, Dai and Tal (4 yrs) from the UK

14 day Cloud Forest, Volcano, Rainforest, Beach Itinerary with combo eco-Tico and eco-Plus lodging
Arrival/transfer/meeting:  Kevin [guide] all went without a hitch which was great after a looong journey. Monteverde Villas Lodge was fab, simple but very clean and excellent breakfast. We did a number of the recommended activities and the forest hikes were just beautiful. We also went on the little train- pricey but great fun for a train obsessed four year old, and spectacular views of Arenal for the grown ups. Kevin was great with our little boy Tal on all the hikes, showing him all kinds of plants and wildlife. We ate at Sabor Tico and thought the casado was excellent! We also enjoyed the coffee farm and frog centre.
Arenal: We enjoyed the mountain hike and the free hot springs. Our son loved sliding down the hot river despite ending up a bit bruised. Arenal Observatory Lodge was lovely and we made the most of the pool and walking around the grounds. Tal made it to the top of the mountain walk so I only had to carry him on the downhill!
Sarapiqui, Selva Verde lodge: Again lovely accommodation. Kevin organised a boat trip for us which was fantastic- we watched boatloads of people with guides talking over megaphones as we went the opposite way with just us in the boat. We saw turtles, sloths, monkeys, so many birds and an iguana fell into the river right next to us. My son is still talking about it! My only disappointment was that the hotel did not warn us the pizza restaurant was closed on Tuesdays- one little boy promised pizza was most put out. Wildlife around the grounds was brilliant- we saw many tiny frogs, a turtle, lots of birds. Kevin also introduced us to some rescue animals his father was looking after and Tal was very taken with the kinkadew.
Cahuita: We loved our beach bungalow at Playa Negra Guesthouse. We had the best meal of our trip at the ocean front restaurant. We walked in the nature reserve twice- alone we saw hardly anything, with Pierre from the hotel we saw monkeys, snakes, raccoons, sloths,We also enjoyed a trip to the Jaguar Rescue Centre on our last day. The manager (Marise) at the hotel was very helpful telling us where to catch the bus etc and that was fun.  The Centre itself was well worth a visit. We delayed our trip back to go to Jaguar Centre which was fine, but lengthened the journey a lot because of rush hour traffic.
Overall we had an amazing trip, different to any holiday we have had before. People were very friendly and helpful, the country is so beautiful and Kevin was just brilliant. Our four year old is still talking about it often and wants to go back! I would definitely recommend Global Family Adventures.
Many thanks for one of our best ever holidays!