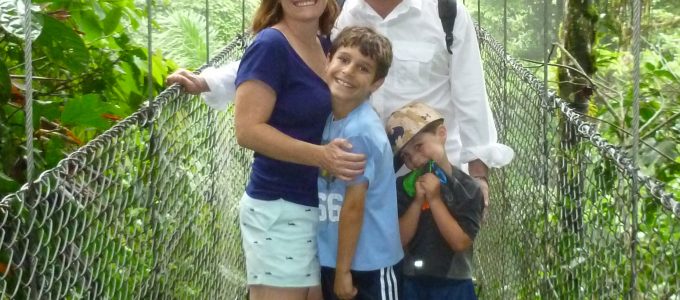 Lindsay, mom of 5 and 8 yr olds

10 day Cloud Forest, Volcano, Samara Beach from Liberia airport
This trip was fantastic!!  My kids can't wait to go back again.  First of all,
Walter
, our guide was beyond great!  He was patient with us and the kids and was the reason they were able to see as much wildlife as they did.
Fortuna:
We all loved it and Hotel Silencio del Campo was great.  I had a massage that was good and we couldn't get the kids out of the hot springs!  The hanging bridges and night frog hunt were definitely highlights.  Although we did also go to Danaus preserve and that was beautiful and the butterfly gardens there were a highlight for me – sloths and caiman for the kids topped their list of cool!  I know you suggested the boat as an option to travel to Monteverde but we  were told by the guides that it isn't the best option as the boat is just 40mins and the balance of the trip is via public transport.  So glad after traveling the roads that we were not on any public bus or van because we needed breaks from the winding roads.
Monteverde:
 The weather was as expected and we enjoyed the forests.  I loved the hummingbird garden.  For kids the bat tour was great and would be a good add for recommendations for kids and those who need a break from hiking 
http://batjungle.com
We were a bit disappointed with the hotel there.  The space was nice with the family suite but if felt old and VERY dated.  Not unclean but maybe like it hadn't been used in a long while as there was a really musty smell.  Also the bedding was kind of icky with burn holes in the comforter.  Additionally, the breakfast there was inedible and we didn't even eat there the second morning.  They also list hot tubs on the website (which kids look forward to) and upon arrival all of them were broken.  Over all the hotel was a miss for us.  [GLOBAL FAMILY NOTE: this was a backup lodge that I hadn't used before as my usual ones were full, I'll be finding a new back up!]
Samara
:  LOVE THAT PLACE!!!!!!! Everything about it was perfect! When guests are at Villas Kalimba, if Roberto puts up the sign that he is cooking that evening, it is a MUST!!!  We had an amazing Italian seafood pasta meal.