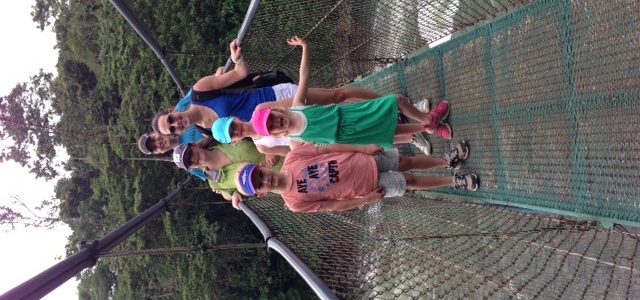 Molly, mom of 13, 7, 5, 4 yr olds

11 day Custom Itinerary including Volcano, Rainforest, Beach, November 2012
"We had such an amazing time! It was one of the best vacations we've ever had-with or without kids.
Kevin was just amazing. We feel like he's family 🙂 the kids loved him, we loved him……he was just great.
As far as the highlights:
When we were in Cahuita we took a taxi over to Puerto Viejo and went to the Jaguar Rescue Center. It was phenomenal. Everyone got to hold baby monkeys and we were able to get very up and close with the sloths. Lots of animals and a great tour. Taxi was $30 each way with a $15 "donation" per person but it was totally worth it. It looked like a very cool little town as well.
Also, in Sarapiqui we went zip lining at la Linda I believe? It was through Las Adventuras de Sarapiqui. Kevin's girlfriend worked there and it was a great time. Seemed very safe and they said they've had kids as young as 2 participate. The only thing I wished I had known was that we were going to get grease all over our clothes from the line. Would have brought an old throw away shirt for everyone.
In Cahuita down the road from our place was The Tree of life Sanctuary. My husband took 2 of the kids and said it was a nice way to pass a couple hours. Not as hands on as the rescue center but close and interesting. They had monkeys and a few different animals than the Jaguar Rescue Center.
Also, we got to go with Kevin to rescue and release a sloth. Needless to say, it was a very cool and memorable night. It looks like hotel Buena Vista has upgraded their rooms from the ones shown on the website. Really nice hotel and bathroom and towels. The nicest of the whole trip.
Thanks again for everything! We made such great memories on this trip!