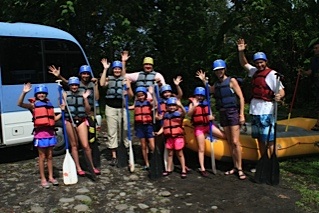 Friends Patty and Bonnie traveled with their families including 6 kids between the ages of 6 to 10

9 day Cloud Forest, Volcano, Rainforest, Beach Tour, August 2012
"Yes we had a great trip.
All went well. We loved Luis [guide] and would highly recommend him and our driver Victor was great as well. We felt like they were family by the end of the trip… Anyway keep using Luis he was great, attentive, good with the kids and very knowledgable about all things Costa Rica. ~ Patty
We had a wonderful time! Couldn't ask for better guides in Luis and Victor!!! Will write in detail when we get home and settled. We are actually just getting in to Miami. Thank you for helping us plan a once in a lifetime experience.