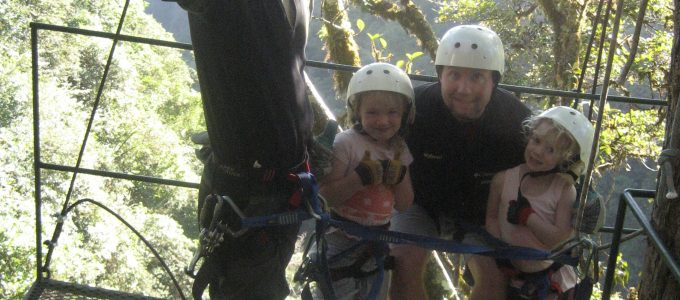 This tour includes a Private Naturalist Guide for your family for a portion of the tour
Offered July-September only when sea turtles are active in the area
Recommended for families with children age 8 and up due to long boat rides (3 hrs) and late night turtle viewing.
Day 1: ARRIVAL IN COSTA RICA – BIENVENIDOS!
Arrive at Juan Santamaria International Airport in San Jose.  Hotel shuttle to a nearby quiet hotel.
Days 2-4: MONTEVERDE CLOUD FOREST
Your private guide picks you up in the morning for the transfer to your first location (3 hrs). The tour begins! Monteverde is a cloud forest community settled by Quakers that boasts a large forest preserve with some of the most diverse plant and animal life anywhere in the world. You have 3 nights here.
Choose your optional activities with your guide. A naturalist guided hike at the Monteverde Cloud Forest Preserve, neighboring Santa Elena Cloud Forest Preserve or new Curi Cancha Wildlife Refuge is a must. The frog zoo is a hit with younger kids and everyone enjoys the hummingbirds zooming around the Hummingbird Gallery. Families with older kids may enjoy the adventurous horseback ride to San Luis waterfalls. Stop in at CASEM, a women's cooperative selling local art and souvenirs.  Check out the cloud forest canopy from a bird's-eye view from the hanging bridges or zipline.
Days 5-6: ARENAL VOLCANO and HOT SPRINGS
Leave Monteverde for Arenal Volcano. Take the scenic drive around Lake Arenal with your guide (4 hrs) or sign up for the Jeep/Boat/Jeep transport ($25pp, 3 hrs) and take a shortcut across the lake. La Fortuna is at the foot of a spectacular classic cone-shaped volcano.  Settle in at cabinas outside of town for 2 nights.  \
Choose your optional activities with your guide. Check out old lava flows (and maybe current smoke) of Volcan Arenal.  Those interested in adventure and scenery can opt for the steep hike to a spectacular waterfall (La Catarata de la Fortuna) with refreshing swimming holes. An afternoon family visit to Hot Springs (Baldi, Tabacon, or Los Laureles) with volcanically heated springs is fun too- there are one or two pools that are cool enough for even babies. There's a great hanging bridges walk or tram ride through the rainforest canopy here for everyone and a zipline for those over 8. You have a good chance to see a sloth and poison dart frogs at EcoCentro Danaus or check out traditional cultural food, sugar cane candy and visit a school with Cultour at La Casona.
Days 7-8: SARAPIQUI and TIRIMBINA RAINFOREST RESERVE
Transfer with your guide to Puerto Viejo de Sarapiqui, nestled in the lowland tropical rainforest (2 hrs). You'll be here for 2 nights.
Choose your optional activities with your guide. You can cross the longest suspension bridge in Costa Rica to explore the rainforest at nearby Tirimbina Rainforest Reserve.  Majestic tall trees, birds and colorful tiny frogs abound! Early-risers can opt for a guided birding walk. Visit the rainforest at La Selva, one of the top tropical ecology research stations in the world, or take a thrilling whitewater rafting trip on the Rio Sarapiqui (Class 1-5 rapids). The morning family boat ride on a slow, shady boat to look for monkeys, sloths, toucans, caiman and crocodiles is always a hit with kids who might get worn out on a hike! Kids 6 and up can try out the zipline at Hacienda La Linda.
Days 9-10: TORTUGUERO NATIONAL PARK- SEA TURTLES
Tortuguero is a special community on the border of Tortuguero National Park, famous for it's sea turtle nesting grounds. It can't be reached by road as the area is a wetland full of canals. Wildlife is abundant and the fishing is good!
One hour transfer with your guide to Guapiles where you'll meet your Tortuguero group for breakfast at 8 am. Your time with your guide ends here. You'll travel on to Tortuguero with your new group guide provided by your Tortuguero hotel, first by land, then by boat. During your time with them, all your meals are included.
A night tour to see the sea turtles is not included but can be arranged with the hotel. Visitors sign up for a lottery through the national park to determine if they will be in the 8 pm or 10 pm tour. Entrance to the national park is $10/adult and $2/child There is likely an additional tour fee. The lodge has a pool and you can walk to the beach (this is a wetland area, not a sandy swimming beach) or canals depending on which lodge.
Day 11: HEAD BACK TO SAN JOSE
After breakfast at the lodge, your Tortuguero tour group will hop back in the boat to return to solid ground (about 2-3 hrs). You'll then board a bus to return to San Jose. A lunch stop is included. Arrive at your San Jose lodge late afternoon and check into your hotel with pool.
Day 12: TRANSFER OUT – ADIOS and GRACIAS!
Transfer (15 minutes) to Airport by hotel shuttle.