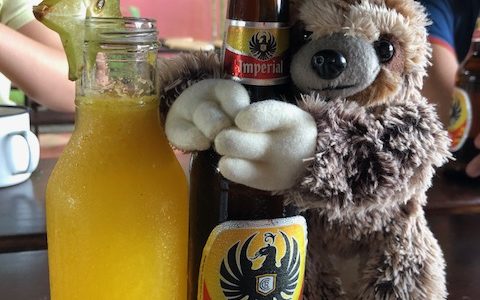 Katie, Mom of 13 and 16 yr olds

10 day Manuel Antonio, Osa, Dominical with eco-Plus lodging
We had a wonderful time! Everything went very smoothly. Hernan Sandi was a great guide – he was very knowledgable about birds and wildlife and took us to a lot of places we wouldn't have otherwise gone, our trip would not have been nearly as fun without him. I would definitely recommend him for further use if needed.
Highlights of our trip were:
We went surfing in Domincal – the surf was very strong that day unfortunately and my husband brought the boys in after just an hour as there were threats of rip tides.
We hiked Nuyauca Falls – definitely not for the out of shape crowd 🙂 but fun and beautiful.
Saw great wildlife at Hacienda Baru – best sloth sightings we had. Wish we had done a guided tour, but only had so much time. And the beach was great – we had it all to ourselves!
We loved the Drake Bay Wilderness Lodge – the staff was wonderful. We had a private 6 person ride to the resort so our boat driver detoured through the mangroves for us. My son and I did the night tour with the "Bug Lady" – this was one of my favorite things of the trip. Also the beach there was wonderful – definitely underused by guests as there were very few on it and I never saw anyone from our resort.
Manuel Antonio was nice – tough to go back to crowds after being in such private locations, but it was fun. We did a guided tour at the park and spent time at the beach there and went ziplining with El Sanctuario Canopy Company – I would highly recommend this tour – lots of fun and a great lunch.
I definitely cannot wait to go back and explore some more of the country.
I do have a few suggestions – Since our flight got in so early (11:30 am) I wish we had traveled closer to Baru on the day of arrival – the drive took 5.5 hours so we lost most of a day traveling. This obviously wouldn't work for everyone, but depending on the time of arrival might be beneficial. We followed your packing guide and it was pretty much perfect. We didn't check any luggage and did laundry at Drake Bay. I would suggest adding a small packable microfibre towel to the list. We should have booked the Drake Bay night tour ahead of time – their website indicated you could book while there, but the night tour was full – they were kind enough to fit 2 of us in. Other than that I can't think of too much else.
I will definitely write on your Facebook site – just waiting to download our photos – my husband and kids took most of the pics, I was too busy with the binoculars.
Thanks again for everything – I have already given your information to a few friends.