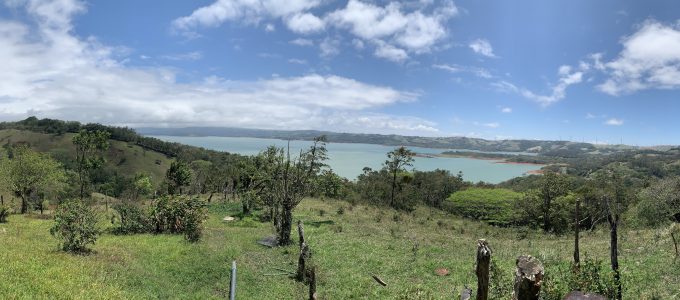 Sarah, mom of 4, 9 and 12 yr olds

11 day Volcano, Cloud Forest, Samara Beach with combo lodging
We've been home for a week now and I finally have time to send you the email I wanted to send. The short version: this was a trip of a lifetime! I am so immensely grateful for the help you provided to us, the guidance in the documents you provided, and for having Dauren to guide us. It was amazing.
This email will be very long as I wanted to include everything we did in case you can glean any insights to pass on to others.
Day 1
We arrived on schedule and took a cab without incident to Hotel Boyeros, which was perfect. The boys loved the pool and the water slide. We then went to the market across the street to pick up snacks and a soccer ball — great tip — and then went to play in one of the town parks before grabbing dinner at a restaurant our guide book recommended called Donde Pipe, which was casual and had an American kids menu (one of our sons is THE pickiest eater I've ever known — to the point that he stopped drinking all juice on this trip because "it wasn't like the juice at home" — so we had a few of these nights where the option to have a hamburger was a blessing.)
Day 2
I don't think there are enough words to describe how much we all loved Dauren and how much better he made the trip. As soon as we met him he made us all feel comfortable and welcome in his country and was soon telling us all sorts of things about the land and its people on the drive to Arenal. We saw a family of howler monkeys on our way and he pulled over and let us take pictures (and did not bat an eye when it turned out my younger son Thomas has stepped in a pile of poop and had not realized before getting back in the car… ugh).
When we arrived our room wasn't ready so we hung out at the pool and took in the glorious view of the volcano. Later that afternoon we did the mini hike to the waterfall, well worth it. We ate at the hotel restaurant that night and it was pretty meh — exactly as you described, ok, a bit pricey, but what a view when the sun was setting. And good pina coladas. The hotel was beautiful so thank you for booking us in there.
Day 3
We were up early to head to the mystico hanging bridges and went on a pretty substantial hike where I think we all realized how fortunate we were to have Dauren with us. He saw things that I have no idea how he spotted – tiny frogs, sleeping bats, a snake that was totally camouflaged. It was amazing. I would recommend this hike to families who have kids that don't mind walking. Ours were pretty done by the end.
But I guess we're kind of mean parents because we then made them hike down (and up) the Catarata de la Fortuna, which was great. The boys really enjoyed hopping about on the rocks.
We then hit La fortuna to go to a soda that Dauren recommended, which I don't remember the name of, which was cheap and wonderful, played soccer in the town square and had ice cream at pops. On the way back to the hotel we stopped to go into the hot springs the free way, with the access basically at the side of the road. Although the boys loved it I'm not sure I would recommend this to families with young kids or kids who aren't as comfortable in the water. The current was really strong and Patrick actually got swept over a little ledge at one point – and I lost my flip flop which was not exactly as alarming. Patrick was totally unfazed and thought it was hilarious but I kept thinking that if we were in Canada we wouldn't have been taking our kids into a current that strong, so parenting fail for us.
We ate lunch so late that we just picked up snacks from the market and had a picnic on our balcony that evening. The Dauren took us on a frog hunt that night, which was amazing. We saw about a dozen leaf frogs and boys were so proud when they were able to find some themselves.
Day 4
We decided to do the van boat van transfer, which was great. When we got to Monteverde the sun was shining and we were instantly charmed by the arco iris lodge – this was my favourite hotel of the stay. The staff were wonderfully nice and I loved the gardens and the breakfast and our little hut with the two separate rooms.
We went to lunch at the ranchero de Juanita and my husband told me to tell you that you should recommend this place as a must stop for all families with young kids. Not so much because they loved the food — my un picky son did, but my picky eater only had two bites of chicken and some plain rice — but because it was so nice to be able to let the kids run around the soccer field and play on the playground while we ate some of the best food we had on the trip, all for less than 20 USD.
We went for an early dinner that night to bon appétit which satisfied the boys. We then went on a night tour — and I can't remember the name of the place we went, it was one that Dauren recommended though. Patrick thought it was one of the best things we did in the whole trip and Thomas was enthusiastic until the last half hour and then made me carry him everywhere. We saw all sorts of animals and bugs, including a baby sloth, so that was quite thrilling.
Day 5
We decided to give zip lining a go and so Dauren took us to selvatura. We were in a group of about 15 people with four kids, including our own, and everything went very well and I really enjoyed the experience. Patrick was very happy to be able to go by himself on most of the lines. Thomas went with a guide but he was fine doing that. There were no long waits and the weather was ideal so I think we had a pretty perfect experience. Unfortunately two people from our party got badly hurt at the end of the last zip line when they came in far too fast either because they hadn't understood they had to brake or didn't know how — they both hit their heads quite badly and injured their faces. Anyway, it was a reminder to me that you have to make sure you understand the instructions before doing something like that.
We went to casem for lunch, which was another highlight. The food was delicious. We played soccer in the green space in front and relaxed for awhile. Then we ended up visiting the quaker friends school. As soon as my husband read about the history of Monteverde and heard more about it from Dauren he became very interested, ended up calling the school and we got a tour from the principal. Brian was so interested that he bought the book of the quaker history of the area. Pretty special place!
We finished the afternoon by heading to the Monteverde cloud forest preserve for a very quick hike during which we saw (according to Dauren) two super rare birds and a tarantula on the side of the trail. We then had ice cream on the way back to the hotel. I have to say I think Monteverde was my favourite location we visited. I feel like I could have stayed there awhile.
Day 6
We headed to the beach and the lazy part of our holiday began. I was grateful for your tips about stealing the airsickness bags from the plane because patrick got sick in the car. It was a long drive but well worth it when we got there. As you recommended Brian went with Dauren to go get groceries, which worked out perfectly. Then we said goodbye to Dauren and I must say I felt quite bereft without him! It was so nice having an expert with us to tell us all about the history of each place we went and make our trip so much more interesting. The boys made a little thank you card for him and I hope he knows that he was so important to the success of our vacation.
In Samara we basically swam, body surfed and played games in the shade. It was absolutely amazing. We rented bikes one day which was a failure… Thomas was really too little to bike on the beach as it was quite hard to do. Oh well, it was an adventure!
For dinner we ended up at a taco place on the beach one night, which was fine, and the other night we went out was an Italian place which I don't remember the name of and do not recommend (bad service, mediocre food and very expensive). I actually did not see your note about not walking home at night until our last day there (again, bad parenting) and we had walked home along the beach both times after dinner in the dark (with flashlights) so I guess we were lucky that we didn't have any unfortunate incidents. Another couple at the hotel had assured me it was safe. We bought our dinner at the fish market one night, so yummy and fresh and delicious.
The hotel was ideal in so many ways, especially its location and the nice little sanctuary it had under the palm trees near the beach. I have to say though that I was a little stressed out at times because we were the only people there with kids, and since everybody is kind of on top of each other I was extremely conscious of our kids being too loud/annoying/splashy in the pool/tracking sand everywhere etc. This was really just me being a weird stressball as my boys are usually quite well behaved and all the other hotel guests were so nice and friendly and even told me at one point how cute the kids were but I couldn't shake the feeling that we were ruining people's zen experience some of the time. Also the hotel has a new owner (he bought the place Jan 1) and he seemed to be everywhere, all the time, also giving me the feeling that my kids were being watched, though again he was nothing but friendly to us (well he seemed a little annoyed when I accidentally pulled the tap off the outdoor shower but I understood that).
The beach itself as you know is nothing short of stunning, and the boys spent hours on boogie boards, playing in the waves. It was so, so lovely.
We returned back to Liberia and back to Canada without incident, back to horrible snowy weather. Gargh!!!
So, sorry for the absolutely novel but I hope some of this is helpful for your suggestions for other families! And I will be recommending your services to everyone.
Thank you so much again!