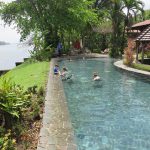 Gretchen, mom of 8 and 6 yr olds (grandparents also joined trip)

Tortuguero Turtles, Rainforest, Volcano, Cloud Forest
I wrote up some of my notes from the trip…Overall we had an amazing adventure and are serious about coming back again next March. I'll be in touch!!
Hotel Buena Vista, Alajuela
Loved this hotel! It was a great place to start the trip. The people were so kind there and the food was excellent.
Tortuguero
I think this was our favorite location! (see photo above) Tortuga Lodge & Gardens was gorgeous and the accommodations were so nice. My only note with this property is the meals… 3 course lunches and dinners are time consuming and overall
Keep Reading →