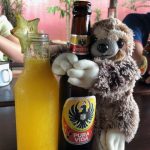 Katie, Mom of 13 and 16 yr olds

10 day Manuel Antonio, Osa, Dominical with eco-Plus lodging
We had a wonderful time! Everything went very smoothly. Hernan Sandi was a great guide – he was very knowledgable about birds and wildlife and took us to a lot of places we wouldn't have otherwise gone, our trip would not have been nearly as fun without him. I would definitely recommend him for further use if needed.
Highlights of our trip were:
We went surfing in Domincal – the surf was very strong that day unfortunately and my husband brought the boys in after just an hour as there were threats of rip tides.
We hiked Nuyauca
Keep Reading →